Seoul is the world's 16th largest city. This is the capital and largest metropolis of the republic of Korea. With a population of 10,236,408 people, Seoul is the perfect place for traditional & modern culture, food, shopping & nightlife. Safety, convenience transport, fast internet, history between North & South Korea, fashion & cosmetics industry, K-pop and K dramas attracts over 11.1 million tourists visit Korea every year. This travel guide covers where to stay, what to do, what to see and what to eat in 3 days!
Recommend accommodation:
Conrad Seoul Hotel: Conrad Seoul Hotel is a 5 star hotel, one of the best hotels in the world. Located next to Han river, it offers a beautiful river views. This hotel occupies one of the four towers of the renowned International Finance Center in Yeouido Business District. Recommend for business travelers or the people who looking for luxury hotels.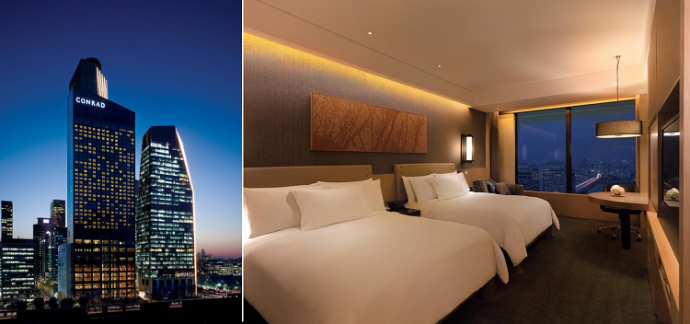 Lotte Hotel World Jamsil: Located in Gangnam's business district, next to the largest indoor theme park Lotte World and Lotte Tower shopping mall. This luxury hotel has rooms that incredibly open directly to the theme park. The 7th floor are the cartoon characters rooms.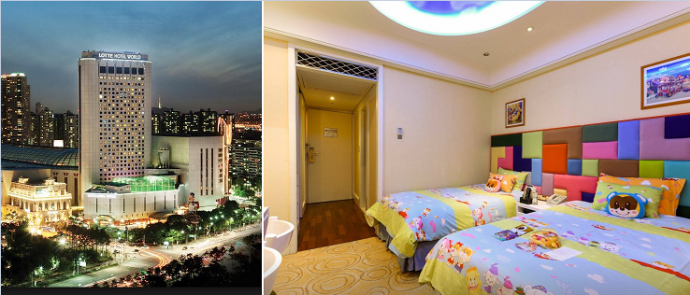 PJ Hotel Myeongdong: Located between Euljiro 3-ga station and Euljiro 4-ga station, the central of Seoul city. PJ Hotel offers double, twins, family room and quad room. The hotel also arranges shuttle bus services that take you to the city's main attractions for shopping.

Metro Hotel Myeongdong: Metro Hotel Myeongdong is the perfect place to experience central of Seoul and its surroundings. With the most convenient location, the hotel offers easy access to the shopping district Myeongdong, Dongdaemun, Jongno jewelry shopping street, etc. This hotel offers family rooms with 3 double bed that is comfortable enough and the room sizes also are big enough for you to buy a lot of goods.

Ibis Styles Ambassador Seoul Myeongdong: Ibis Styles Ambassador Seoul Myeongdong is located in Myeongdong, a convenient location that allow travelers can enjoy easy access to all must-see destinations. Many cafes and restaurants's surrounding.

Maxtyle Guesthouse Dongdaemun: Maxtyle Guesthouse Dongdaemun is affordable, clean and the rooms are very big and spacious. It located next to the DDP and between Dongdaemun station and Dongdaemun history & culture park station, it offers easy access to the shopping disctict. Very recommend for the big groups of friends or families who require big rooms at affordable prices.

Ewha Hostel: Located next to Hongik University station, Ewha Hostel is a perfect place for young travelers. This hostel provides various rooms or apartment which are available for 5-9 people. Hongdae is a youthful district, perfect for shopping, foods, visit cafes, bars or clubbing!

Wow Factor Stay: Convenient location, Featuring Ondol, Korean heated flooring, the rooms offer warm interior design. Travelers can also request a simple Korean style breakfast. Recommend for couples or young travelers, especially female travelers.

Philstay Ehwa Boutique: This is a female-only hostel, just 2 minutes' walk from the Ehwa Women's University Metro Station and near the Ehwa women fashion street. Recommend for solo female travelers.

Bonum 1957 Hanok and Boutique: Set off from the hustle and bustle of Insadong shopping district, this place is perfect for travelers who looking for a traditional Hanok stay experience. This Hanok offer easy access to Gyeongbok palace, Changdeok palace, Bukchon hanok village and Samcheongdong.
Check-out the best places to stay in Seoul
Seoul Itinerary 3 Days for family trip with children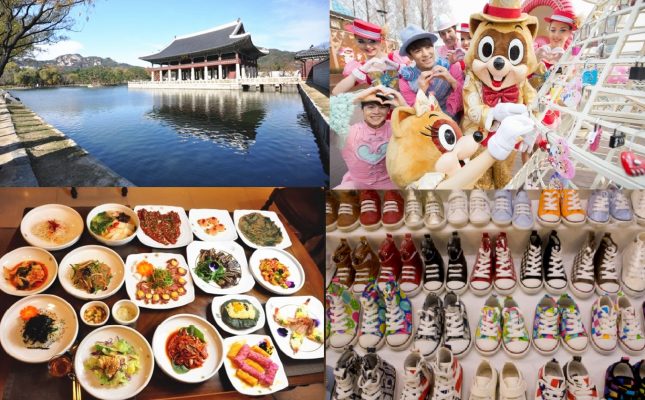 DAY 1 – Gyeongbokgung Palace (Close on Tuesday) – Insadong – Dinner – N Seoul Tower
After arrival to Seoul from airport and hotel check in, you should see some highlights of Seoul city on the first day. Visit Gyeongbokgung Palace which is famous for its outstanding building and this is the largest palace in Seoul. The royal guard changing ceremonies are available at 10a.m. and 2p.m. every day except Tuesday and bad weather, check out more details about the ceremony if you are interest to see > Royal guard changing ceremony in Gyeongbokgung Palace
After visit the largest palace and pass by Gwanghwamun gate, walk about 20min and go ahead to visit Insadong. Insadong is the place where old but precious and traditional goods are on display. You can also take a rest in the unique cafes or traditional tea houses in here.
It's time to enjoy a plenty dinner. The first dinner of your Seoul trip should be a royal full course meal. The Hanjeongsik! The Hanjeongsik is a full-course meal consisting of the finest Korean delicacies alongside savory side dishes. Hanjeongsik is a very special meal and was reserved to royals and aristocrats in former times, there are many Hanjeongsik restaurants in Insadong, price is between KRW30,000-100,000 per person. > Details of Hanjeongsik
After dinner, take a taxi and go up to the Namsan tower. (Bus and cable car are available but both very crowded during weekend or travel busy season, you may have to wait more than one hour to take the cable car) The Namsan Tower is the highest tower & landmark in Seoul, standing at 236m, it is a symbol of the city and something that you should not miss when visiting Korea. Standing on top, you can overlook the whole city and enjoy the best view on Seoul. The love lock plaza is the famous Korean drama shooting place. Don't forget to bring your camera to for taking stunning pictures!
You can visit more Seoul's attractions though our tour or car services, we will arrange comfortable car for you and your family. Check it out > Best private tour in Seoul                       Private vehicle & driver in Seoul
DAY 2 – Amusement Park (Lotte World or Everland Park or Seoul Grand Park)
If you will traveling with young kids, we strongly recommend Lotte World. Lotte World is the perfect spot for entertainment and sightseeing as it's easy to go to. It is a theme park filled with thrilling rides, an ice rink, different kinds of parades as well as a folk museum, a lake, an aquarium and much more. It's also known as the shooting location for Korean drama -Stairway to Heaven. And you won't need to worry about your day being ruined because of a rainy weather, as Lotte World include both an outdoor and indoor park. The basement of indoor park offers various kids rides and kids playground that are recommend for young kids. Check out More details of Lotte World       Tickets of Lotte World
If you are visit with older kids or teenagers, Everland amusement park must be a good choice to spend one day. Everland is the biggest outdoor theme park in South Korea and it is  also the home to over 40 heart-pounding rides and attractions. It is open all year long with various rides, and also festivals like Global Fair, theme parks including Magic Land, European Adventure and Zootopia.  A ride named "T Express" was added since 2008. It is the first roller-coaster in South Korea to be constructed out of wood and it is THE must ride roller-coaster in Korea because it is the highest, fastest, longest, steepest roller coaster! Check out the tickets of Everland         Shuttle bus + tickets of Everland
If your kids are not interest in amusement park, you may visit Seoul Grand Park. The Seoul Grand Park is the first and largest theme park in Korea with a zoo and a botanical garden. With 100 years history, Seoul Zoo is home to over 2,975 animals belonging to about 348 species from all over the world. The zoo is the 10th largest in the world and a recognized member of the International Species Information System (ISIS) and the World Zoo Organization (IUDZG-WZO). The 'kokiri train' runs through the zoo, art museum, and Seoul Land. Visitors can take a lift and fly above the lake and zoo. Seoul Grand Park private tour.
Then, you should try the popular Korean BBQ pork or beef for your dinner. The eight colors Korean pork belly BBQ restaurants (Palsaek Samgyeopsal) offers 8 different flavors of grilled pork belly
(Samgyeopsal) such as the meat marinated with wine, ginseng, garlic, herb, curry, miso paste or red pepper paste. This restaurant was introduced on famous TV programs. The best night food tour
Day 3 – Shopping day (Dongdaemun Market / Myeongdong / Time square+Yeongdeungpo underground mall)
The last day trip in Seoul should buy some souvenirs. Korea is well known for fashion and cosmetic industry. You can easily find the shops in every where. Check out the good places for shopping with your kids as below.
Dongdaemun Market: Dongdaemun Market is the largest single market in Asia and contains many stores specialized in various fabrics, craft supplies, accessories or weddings products but honestly the prices are higher than another places. You can visit there or Gangnam district for shopping if you have a big budgets. Not only shopping, the landmark of Seoul – Dongdaemun Design Plaza (DDP) is also worth to visit, this is a blend of traditional buildings, relics and cutting-edge modern multicultural facilities.
There's a grilled fish alley in Dongdaemun District, the alley has been more than 40 years, it features around 14 different grilled fish restaurant. Korean grilled fish always serve with rice and some side dishes. Some fish can be very salty, check it with the waiter before you order! (Grilled fish set meal price: Around KRW7,000-8,000 per person)
Myeongdong: It is the most famous fashion meccas and youth hot spot in Seoul with its many brand name shops, clothes shops, Korean cosmetic shops, duty free department stores, making it very popular among Seoul's fashionistas. It blends shopping and arts with a decidedly cosmopolitan flavor. Many street vendors sell the Korean street food, drinks or international street food in this area.
Time square+Yeongdeungpo underground mall: Since a mega shopping mall Times square opened in 2009, Yeongdeungpo became crowded and busy. Yeongdeungpo underground mall offers a variety of products marketed to different age groups from teenagers to seniors. Another attractions are worth to visit are Yeouido Park and Noryangjin fish market, both are located near times square and Yeongdeungpo underground mall. Yeouido Park is a large recreational area located on Yeouido Island in the central part of Seoul. People frequented the place for bicycling, roller-skating, rest, picnic, play sports, and cultural events. Noryangjin fish market is the largest wholesale and commercial fish market in Seoul, it handles about 50% of metropolitan volumes and 250 to 300 tons of marine products are traded 24/7.
Shopping tour in Seoul      Private vehicle & driver in Seoul
Seoul Itinerary 3 Days for girls trip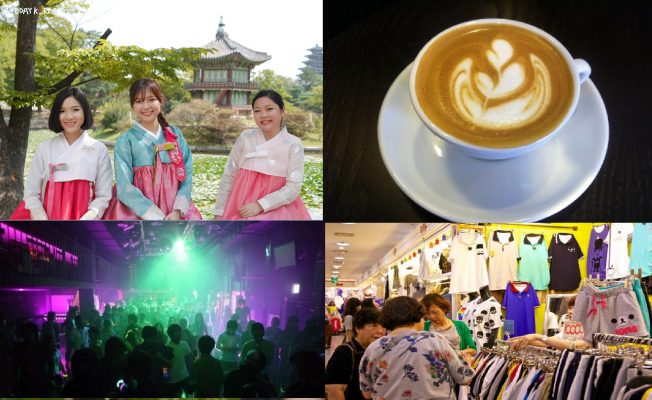 DAY 1 – Rent Hanbok – Gyeongbokgung Palace (Close on Tuesday) – Bukchon Hanok Village – Return Hanbok – Samcheongdong or Buam dong 
Hanbok is not only worn during traditional festivals and celebrations now, many Korean girls and foreigners wearing the Hanbok and take beautiful photos in the palace and traditional village. You can rent the Hanbok from rental shop in Seoul and choose your favorite dress. There are special benefits too, like free entrance for the Royal Palace!               4 Hours Hanbok photo shoot tour
After taking photos in the palace and hanok village with your friends, don't forget to return the Hanbok. After return the Hanbok, is time to find a place to rest. If you want to escape from the bustle of crowds, Buam dong must be the best place. Buam dong is a neighborhood in central Seoul and a very charming relaxing place. There are various galleries, coffee shops and restaurants. You can easily spend half day or whole day in there for relaxing. If you want to visit the nearest place, Samcheongdong must be a good choice, it is next to Gyeongbokgung palace and Bukchon Hanok Village. Samcheong-dong is one of the most unique places in Seoul. This area is filled with European-style cafés, trendy shop, galleries, restaurants and accessory shops.
Day 2 – Gangnam – Goto Mall + Sinchon / Ehwa / Hongdae Youthful District – Speed dating bar or night clubs in Seoul
Gangnam in southern Seoul has a story of its own. Psy's 'Gangnam Style' brought worldwide attention to this district, since then it has been the most stylish and trendiest area in Seoul. Nowadays, Gangnam style is no more popular but the beauty clinics are still very popular for both Koreans and foreigners. There are about 500 plastic surgery clinics in Gangnam district, you can easily find the plastic surgery advertisements at Gangnam subway station. Don't forget to make an appointment before you visit a beauty clinic.
Before start to explore Gangnam, you should recharge your energy. Koreans said the Kyochon chicken brunch in Gangnam offers the most tasty and crispy fried chicken. My favorite's one is Kyochon honey combo chicken. Kyochon known as the best Korean fried chicken restaurant in Korea, and this is only restaurant used less batter for frying and the skin becomes more crisp.
Gangnam also is a luxurious shopping area, COEX mall, galleria department store and Sinsadong Garosugil are the places offer luxury goods and local design fashion. The top entertainment agencies all are located in Gangnam area.  This is the place where you must go if you like K-Pop.       Gangnam K-pop tour
Goto Mall: Coto Mall means "express bus terminal," it is a shopping heaven for women. The 880-meter-long alley consists of a multitude of stores offering various goods, making it the largest underground shopping mall of its kind in Seoul. You can find the latest clothing trends, accessories, cosmetics with the most cheapest price in Seoul. If your time is enough, you can visit Shinsaegae department store because it is located next to this Goto mall.
Is time to recharge your body's batteries after crazy shopping! At the end of Goto mall, restaurants and food courts are available. Goto Mall offers relatively cheaper deals than Dongdaemun market. Do not miss out the great products in here.
Hongdae: Hongdae (the abbreviation of Hongik University) has become a symbol of unique cultural identity among Korea's youth. Here you'll see the street performance performs by underground rappers, bands, singers at night during weekend. Couple that with the other large universities nearby (Sinchon, Ehwa), and you've got yourself a youthful college hangout. Hongdae, sinchon district offers affordable restaurants, unique cafes, bars, clubs and fashion shops.
For dinner, I recommend cheese dung galbi (Grilled baby black ribs with cheese), this is one of the Korean dish that is combine with American style and Korean style. Grilled saucy baby back ribs with cheese, served on a portable gas stove.
When you think about Hongdae, the things that usually come to mind is university, art, cafes, fashion, cosmetic, food, street performance. But, Hongdae is the most energetic at night! An endless music and dance, you must visit the night clubs in Hongdae if you love nightlife such as NB2 club, this club is owned by YG Entertainment. Let's have a crazy night in Hongdae during your trip!
"Booking bars" are very popular in Korea. So why the name is booking bars? It means arrangement of female customers brought to tables of men. You must visit those bars if you prefer to
sit comfortably, drinking and talking.
Hongdae tour: Discover the nightlife in the hottest place of Seoul   Seoul shopping tour
Day 3 – last minute shopping – Myeongdong
The next hot spot is Myeongdong, the cosmetic paradise. It is the most crowded area in Seoul, with its many brand name shops, clothes shops, Korean cosmetic shops, duty free department stores, making it very popular among Seoul's fashionistas. It blends shopping and arts with a decidedly cosmopolitan flavor. You can also try the various street food while shopping in here!
Do you need a custom itinerary for your Korea trip? Send us your inquiry, we will custom the best itinerary for you > Contact us