Hanjeongsik
Today we will introduce you to special and unique art of Korean food: The Hanjeongsik! The Hanjeongsik is a full-course meal consisting of the finest Korean delicacies alongside savory side dishes. Hanjeongsik is a very special meal and was reserved to royals and aristocrats in former times.

The course
In former times, all courses were presented all at once. Nowadays, many restaurants prefer to serve the courses separately. There are so many dishes that the whole table is covered with plates. Each plate will hold different food, making Hanjeongsik the perfect way to discover the variety of Korean food!
Each person will receive a bowl of rice and soup for one's own, whereas the other dishes will be shared among each other. Sharing food is a highly valued aspect of Korean food culture and until today, meals are traditionally shared. For some people, this might be a culture shock but I recommend you to try it!
The course traditionally starts with a cold appetizer, followed by the main dishes alongside the countless side dishes.
Main dish
The main dishes during a Hanjeongsik usually involve a form of Korean pancake, fried dishes, soybean paste stew, eel, shelled crabs, raw fish, patbab (a mixture of rice, beans and nuts), soups, kimchi, porridge, meat, hot pot and much more.
Side dishes
The side dishes are following a strict rule with regard to their preparation and presentation. They follow the philosophy of Eumyang Ohaeng, which is about Yin, Yang and the primary 5 elements. This concept values the harmony between the 5 tastes (The dishes are grilled, boiled, steamed, fried, or salted) and 5 colors (red, blue, green, white, back). As you see, Hanjeongsik is a thoroughly thought out meal and nothing that cannot be imitated easily. This also means that a lot of variety will be on your table, prepared and cooked in all different kinds of ways.
Dessert
After the meal, traditional sweet drinks such as Sikhye (Rice punch) or Sujeonggwa (persimmon-cinnamon punch) are often served.
Fermented dishes
Fermented dishes are an important part of Hanjeongsik and Korean food in general. While the word fermented might frighten foreigners – keep in mind that your beloved yogurt, cheese or pickles are fermented as well. There is nothing weird about that;) And fermented foods are loaded with good bacteria, which is great for your health!
There is no country which offers such a wide variety of fermented food as Korea. The reason for this is that during harsh Korean winter, fresh vegetables could not be obtained. Therefore, people fermented there food to keep it fresh. And they still do so today. Not only the famous Kimchi but also Korea's pepper paste (Gojujang), soybean paste (Doenjang), seafood and much more that you can find on the table during Hanjeongsik is traditionally fermented, making it a not only tasty but also healthy food!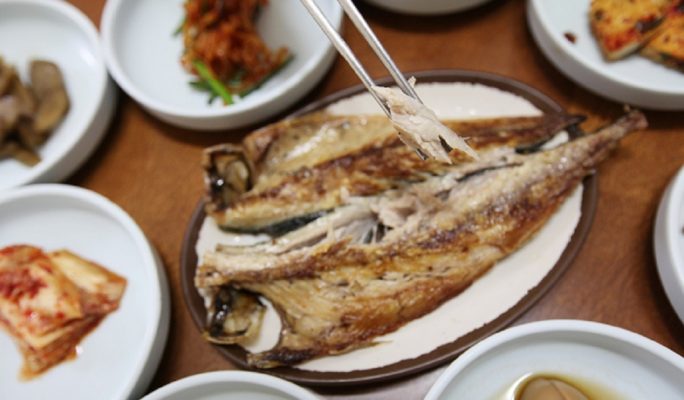 Distinctive tastes
Korea's geography is quite unique. Covered by mountains, surrounded by ocean and holding other geographical features such as fields and rivers, Korea is blessed with great opportunities of growing all different kinds of food. In addition to that, Korea is characterized by 4 distinct seasons, which leads to a rich variety in always changing menus.
No matter what kind of a picky eater you are of if your taste buds differ significantly from your friends' – The rich variety of Korean Hanjeongsik ensures that everyone finds something suitable for their taste.
Tip
The selection of dishes and arrangement varies depending on season and region. And don't eat too much of one dish because there are many more delicious courses coming 😉
Click here for a list of Hanjeongsik restaurants! Or check out our tours including a delicious and luxurious Hanjeongsik dinner for a great price – click here! This is the website so you can have a look on the menu. For a really special experience, you can visit Korea House, where you can watch a traditional Korean dancing performance or make other unique experiences while enjoying delicious Hanjeongsik!
If you want to enjoy a unique Hanjeongsik meal combined with an exciting day trip, do not hesitate to contact us! We will organize the best restaurant for you and take you to the best places which perfectly fit your interests 😉 Simply send an e-mail to info@onedaykorea.com and we will get back to you!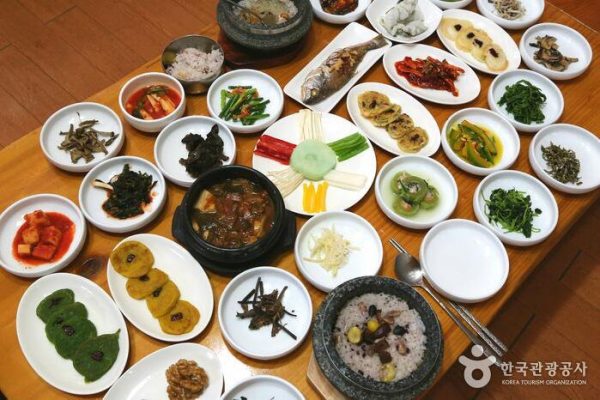 Check out more about Korean food:
10 Challenging korean food you won't dare trying
Let's go for a Seoul food tour? Check out more about our food tours:
The Best Food Tour in Seoul: Tradition vs. Modernity
Korean Street Food Walking Tour
Half day Royal Palace and Food Market Tour