There are some rules for halal and we know the food must not prepared with pork, alcohol or lard, etc. Some Muslims can eat meat but the meat must have already dined on or comes from a carcass that was not slaughtered but died by other means. Sometimes Muslims eat vegetarian if they are not sure the meat is acceptable.
We know it is very hard to find the Halal restaurant in Korea but there are several Korean food are available for Muslims. We chose the best 10 Halal Korean food including vegetable dishes, seafood dishes and chicken dishes, we hope you can find out some good Korean dishes you can try out in Korea!
Best 10 Halal Korean Food
1. Sundubu Jjigae (Soft tofu stew)
Sundubu Jjigae is soft tofu stew. You can find this dish everywhere in Korea. This dish is made with soft tofu, seasonal vegetables such as mushrooms, onion, zucchini and gochujang (Korean chili paste), gochu garu (chili powder). Some restaurants also add seafood clams or shrimp. A raw egg can be put in the stew before serving. This dish typically eaten with rice.
Price: Around KRW7,000
Check-out our best Seoul private tour, our guide will bring you to try this dish.
2. Vegetable Bibimbap (Vegetable mix rice)
Bibimbap is one of the most famous Korean dish. Korean people cannot live without it. It served as a bowl of warm rice topped with seasonal vegetables, usually the vegetables was cooked and mix with salt and sesame oil. The vegetables mostly use pan-fried zucchini, soybean sprout, spinach, radish, carrot, seaweed. It also serve with a fried egg or raw egg . Some restaurants serve it with sliced meat so please ask the waiter before you order it. Before eat, do not forget to add the gochujang (chili pepper paste)!
Price: Around KRW7,000-10,000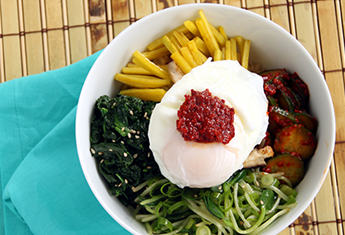 Check-out our best Seoul private tour, our guide will bring you to try this dish.
3. Pajeon (Scallion pancake)
Pa is scallion. Jeon is Korean pancake. This is a Korean pancake made from eggs, wheat, flour, rice flour and scallions. If you like seafood, you can try haemul pajeon (Seafood pancake) or Ojing eo Pajeon (Squid pancake). Very crispy and the smell of grilled scallions are super good. Korean people usually eat it with spicy or non-spicy soy sauce.
Price: Around KRW10,000-15,000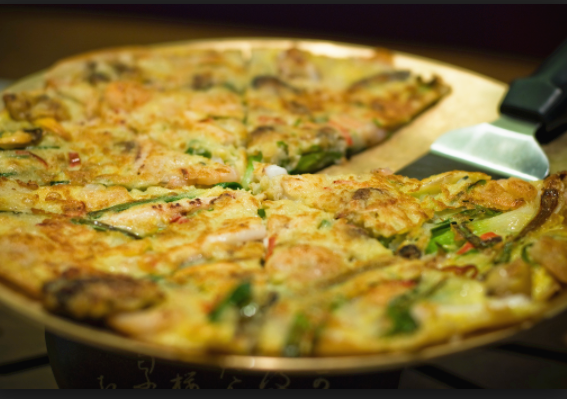 Check-out our best Seoul private tour, our guide will bring you to try this dish.
Korean Pancake is a popular dish eat after hiking, check-out Bukhansan mountain hiking experience and this tour, our guide will bring you to try this pancake during lunch-time near the national park.
4. Kalguksu (Knife cut noodle)
This is a Korean noodle dish consisting of knife cut wheat floor noodles served in a bowl with broth and seasonal vegetables and seafood. Some restaurants serve with mushrooms or pea but mostly serve with onions, scallions and seafood like clams or chicken.
Price: Around KRW7,000-10,000
Check-out our best Seoul private tour, our guide will bring you to try this dish.
5. Gimbap (Rice roll)
Gimbap is a Korean style roll sushi. This dish usually stuffed with cucumber, carrot, crab, vegetables, egg and wrapped in seaweed with a bit of roasted sesame oil. You'll see people selling these out of Styrofoam coolers on the street or restaurants. This dish is the most popular food after rice cake for children and teenagers because of its colors and good taste. Do not forget to tell the waiter you want a vegetable gimbap because some restaurants serve general gimbap with ham! (There's many ingredients for gimbap, you can also choose tuna, cheese or shrimp gimbap, etc)
Price: Around KRW2,000-3,000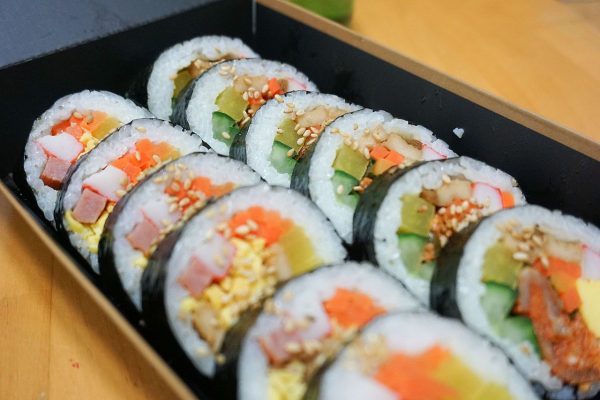 Check-out our K-Food walking tour, we can bring you to visit the local traditional market and try the Kimbap and another street food.
6. Dakgalbi (Chicken barbecue)
Dakgalbi is Korean chicken barbecue. This is the most famous food in Chuncheon (The place where Nami Island located). There are two types of chicken barbecue, one is made by stir-frying marinated diced chicken in a gochujang (chili pepper sauce) with potatoes, cabbage, scallions and rice cake. Another one is charcoal chicken, usually restaurants offer 2 flavor, spicy or salt. Korean people eat this charcoal chicken with Makguksu (buckwheat noodles).
Price: Around KRW12,000-15,000 (This dish usually available from 2 people)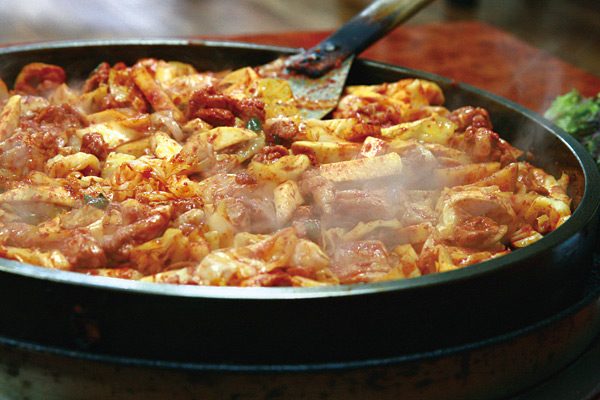 Chuncheon is the best place to try Stir-fly chicken, check-out our Nami Island tour, our driver will recommend good Stir-fly chicken restaurant for you during the tour.
7. Samgyetang (Ginseng chicken soup)
A special ginseng chicken soup. This is the most healthy food in Korea. Usually Korean people eat it with rice. Especially during summer, they eat this soup because they believed eat the hot soup is "fighting the heat with heat". If you do not like the smell of ginseng, you can try the DakGomtang (Chicken soup without ginseng).
Price: Around KRW12,000-15,000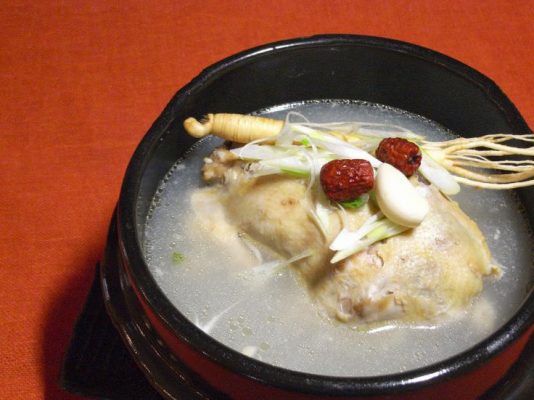 Check-out our best Seoul private tour, our guide will bring you to try this dish.
8. Fried Chicken
Because of the drama "My love from the star", Korean fried chicken became super popular in the world. There are so many many chicken restaurants in Korea, you can also find so many taste like original, spicy, garlic, honey butter, soy sauce! My favorite's one is Kyochon honey combo chicken. Kyochon known as the best Korean fried chicken restaurant in Korea, and this is only restaurant used less batter for frying and the skin becomes more crisp.
Price: Around KRW16,000-20,000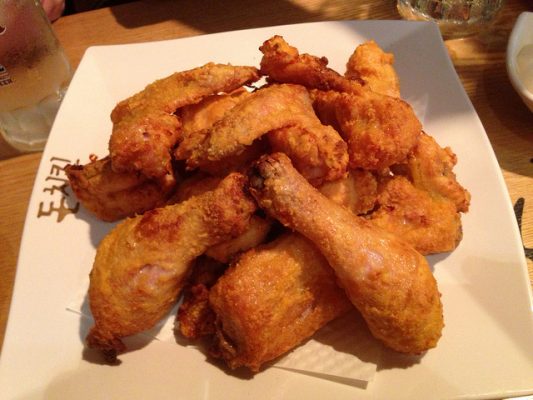 9. Saengseon Gui (Grilled fish)
You may not find this dish easily, at least you do some research before you visit Korea. Grilled fish call Saengseon Gui in Korea. There's a grilled fish alley in Dongdaemun District, the alley has been more than 40 years, it features around 14 different grilled fish restaurant. Korean grilled fish always serve with rice and some side dishes. Some fish can be very salty, check it with the waiter before you order!
Price: Around KRW7,000-8,000
Check-out our best Seoul private tour or Noryangjin fish market tour, our guide will bring you to try this dish.
10. Beoseot Jeongol (Mushroom hot pot)
A very simple and healthy stew. It is a vegetable meal that can warm you up during the cold winter! It is similar with Japanese hot pot, made by mushroom, radish, onion, scallions, some restaurants serve with seafood or dumplings but almost is mushroom and vegetables only. Check it with waiter before you order.
Price: Around KRW7,000-15,000
Check out more about Korean food:
Hanjeongsik – A meal for the Kings
10 Challenging korean food you won't dare trying
Let's go for a Seoul food tour? Check out more about our food tours:
The Best Food Tour in Seoul: Tradition vs. Modernity
Korean Street Food Walking Tour
Half day Royal Palace and Food Market Tour