Seoul Food Tour ? What is it?
The Korean gastronomy has started to be popular around the world and recently in western countries. Why? Because it offers diverse tastes with a mix of different types of unique food and it is really good!
When you arrive in South Korea, you may go to Seoul, where you will discover delicious traditional dishes.
Eating in Seoul is a must do activity during your trip in Korea. That is why OneDay Korea elaborated special food tours in Seoul with an expert local guide (who speaks English). You will have the opportunity to eat the most famous Korean food while enjoying the lively atmosphere of the capital.
What to eat during a Seoul Food Tour ?
Seoul is full of many restaurants, markets where you can try different types of food. During a Seoul Food Tour with your guide, you will walk along the streets, food markets and have a break in a local restaurant.
Street food is very common in Korea. Every day, street vendors set up their own tents or carts to start selling dishes to eat on the go. You will be surrounded with delicious smells. The most famous street food dishes are fried snacks, Odeng (fish cake), tteokbokki (spicy rice cake), kimbap (seaweed rice rolls filled with different ingredients mostly beef, carrot, eggs, cucumber, …), Hotteok (sweet pancake), etc. Yummy!
Besides, you will pass by traditional food markets such as Gwangjang market and Noryangjin market where you can eat raw fish, and even a live octopus, specialty in Korea! If you are not into experiencing raw octopus, Bindaetteok (mung bean pancakes), Pajeon (green onion pancake), japchae (stir-fried noodles), and much more will be perfect to satisfy your taste buds! Do not hesitate to ask your guide if you have any questions about the food!
After tasting a bit of traditional Korean food, you can finish your Seoul Food Tour by enjoying a convivial dinner in a typical restaurant by eating the famous Korean barbecue Samgyeopsal.
Samgyeopsal is a barbecue dish made with pork belly meat, served with vegetables and lettuce. It is a perfect dinner between friends or to share with your family.
Your guide will show you how to grill it and how to enjoy it in a Korean way. You can drink Soju with it, the traditional Korean alcohol.
If you want a sweet flavor to end the tour, why not try the famous dessert Bingsu? You will crave for it ! This dessert made with shaved ice and toppings such as ice cream, chocolate, fruits, is the favorite dessert of Koreans, you will understand why by tasting it ;).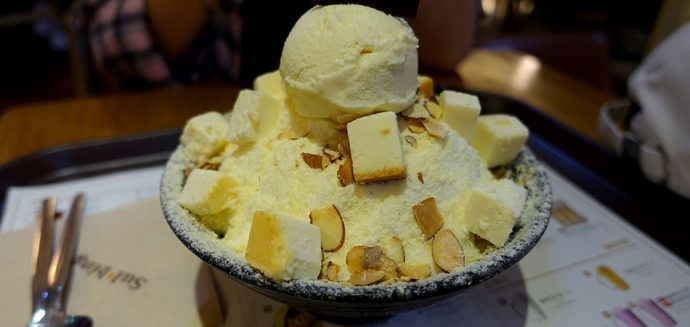 This article has awoken your curiosity right? Do not hesitate and make this tour come true with our Seoul Food Tour you can check here.
Check out more about Korean food:
Hanjeongsik – A meal for the Kings
Check out other food tours:
The Best Food Tour in Seoul: Tradition vs. Modernity
Korean Street Food Walking Tour
Half day Royal Palace and Food Market Tour
Food Tour at Noryangjin Fish Market