10 Best Korean Foods | Must Eat in Seoul
1. Bibimbab
Bibimbab is many foreigner's favorite in Korea as it is usually less spicy than other dishes. In Korean, "Bibim" means mixed and "Bab" means rice. In fact, it is steamed rice topped with mixed fresh vegetables, which are chopped into thin slices, added a bit of hot pepper paste, raw or fried egg and sometimes meat. The dish is often served in a hot stone bowl. It is your task to mix all the ingredients. The great thing about Bibimbab is that it is so customizable and includes so many different ingredients. Moreover, it is one of the healthiest foods, containing natural ingredients only and much calcium and protein!
Join our One day old and new Seoul city tour, our guide will bring you to try the Bibimbap during the lunch-time! Halal or vegetarians Bibimbap is available everywhere in Korea!
2. Doekbokki
The spicy rice cake started off as a street food but it has become so popular that you can also eat it in various restaurants and pubs now. The chewy rice cakes are swimming in thick, juicy pepper sauce, which makes a perfect meal for a cold winter afternoon. The level of spiciness can vary enormously from shop to shop, so be careful. Doekbokki is often served with thin layers of fish cakes, vegetables and a cooked egg. If you order Doekbokki in restaurants, you might choose different cheese toppings, add fried vegetables or even "crème Doekbokki", which is of white color. But that does not mean that it is less spicy!;)
Join our One day old and new Seoul city tour, our guide will bring you to try the rice cake during the lunch-time!
3. Bulgogi
Bulgogi, translated to "Fire Meat", is a delicious dish made of thin, marinated slices of meat which are grilled on a barbecue grill. As popular as it is in South Korea – it is also a dish well-loved by North Korea's Elite. Bulgogi in South Korea comes in every price range you can imagine and is often enjoyed in the evening with friends or family.
Join our One day old and new Seoul city tour, our guide will bring you to try the Bulgogi during the lunch-time!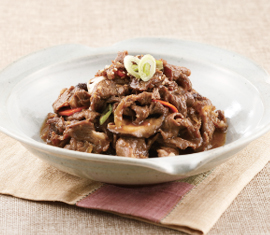 4. Sampyeopsal
If you are a true meat lover you might have already heard of Korean BBQ, right? It is getting famous all over the world but of course, you wanna try the original in Seoul 😉 The Korean name "Samgyeopsal" actually means "Three layered pork". It is Koreans unofficial national meal and Koreans love it so much that they dedicated a whole day only to celebrate Samgyeopsal (The 3. of March is Samgyeopsal Day!)
The basics are pork, rice, lettuce leaves, some dipping sauces and side dishes. Everything will be brought to your table and the fun part is that you have to grill it yourself!
An unskippable part of the Korean BBQ experience are the drinks, particularly Soju! Freshly-grilled meat, the bitter taste of Soju and a bunch of friends to hang out are what most Koreans consider as the perfect Friday night.
Click here to join this food tour or find out where to get the Best Korean BBQ in Seoul!
5. Jjimdak
You have not lived until you tried Jjimdak. Personally, this is my favorite Korean food! Jjimdak is braised chicken with vegetables. The Korean-style pre-cooked chicken is simmered in a delicious, juicy soy-based sauce, which also includes Japchae (Glass noodles), onions, potatoes and much more. The thick sauce itself is delicious already, but together with the juicy chicken, tasty potatoes, chewy noodles and vegetables, a perfect dish is created. It tastes surprisingly different to any other Korean food! By the way, Jjimdak comes on a  really big plate and should be eaten with at least 2 people.
Join our One day old and new Seoul city tour, our guide will bring you to try the Jjimdak during the lunch-time!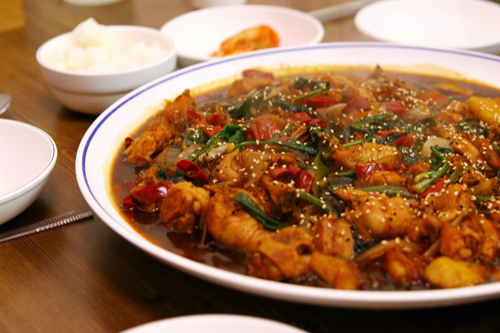 6. Naengmyeon
Naengmyeon is the perfect meal when you are hungry on a hot summer day but don't want to eat warm food. Concretely, Naengmyeon are long and thin handmade buckwheat noodles. They usually come with sliced cucumbers, a hard-boiled egg and -in case of Bibimnaengmyeon-spicy pepper sauce. Naengmyeon are eaten cold to the extend that they can be served in ice water! ("Mulnaengmyeon"). This might sound strange at first, but is actually really delicious and refreshing.
Join our One day old and new Seoul city tour, our guide will bring you to try the Naengmyeon during the lunch-time, this is one of the best dish in Korea during summer! Check-out more about Korean summer dessert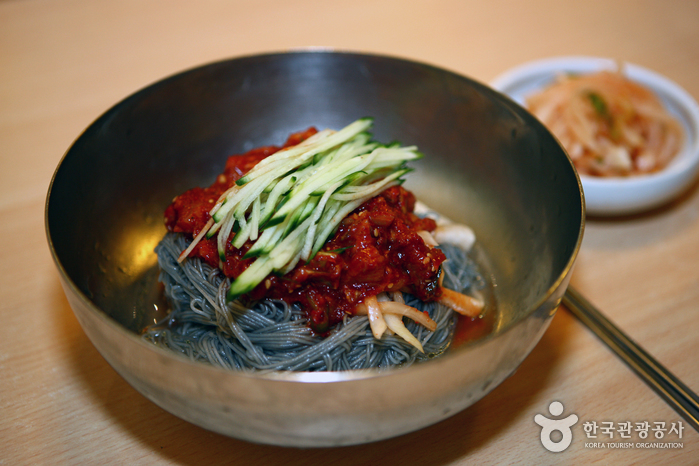 7. Street food
Korean street food is as delicious as it is adventurous. You will find a variety of freshly cooked treats at almost every street corner. Ranging from red bean-filled, fish-shaped breads over spicy rice cakes to intestine sausages and seafood that you might have never seen. Korean street food is heaven for those who are not afraid to try new food and willing to send their taste buds on an adventure! Our personal favorite is Hotteok, which is a fried pancake filled with melted brown sugar, honey, nuts and cinnamon. It is only sold in winter and very delicious!
Join our One day old and new Seoul city tour, our guide will bring you to try the street food during the lunch-time! Check-out more about Korean street food.
Check out more walking food tours:
The Best Food Tour in Seoul: Tradition vs. Modernity
Korean Street Food Walking Tour
Half day Royal Palace and Food Market Tour
8. Kimchi
Kimchi is Korea's national dish and an essential part of every meal. It might smell a bit strong but don't be hesitant! In fact, Kimchi is fermented cabbage in a delicious mix of spicy pepper flakes, garlic, chives, onions and more. As it ferments, it develops a richer flavor.
Kimchi is one of the healthiest foods in the world! it is very low in calories, boosts your metabolism and contains a lot of healthy bacteria. Click here to learn more about the benefits of eating Kimchi!
In fact, Kimchi is so important that Koreans feel like a meal without Kimchi is not a complete meal. No wonder it is consumed for breakfast, lunch and dinner. It can also be the topping of pizza and burgers! If you are not into raw Kimchi, you might try Kimchi Fried Rice, Kimchi Stew or Kimchi Pancake, which taste less strong.
Click here if you want to make Kimchi!
9. Budae Jjigae "Army Stew"
This special dish has its own interesting story: After the Korean War, soldiers entered a US Army base camp where they found a variety of unknown ingredients. As they were starving, they simply mixed the unknown foods with whatever they had with them and unknowingly created this delicious Korean-American fusion dish, which is still one of the country's favorites today. Next to traditional Korean ingredients like Kimchi, pepper, rice cake and Gojujang, there are a million others like spam, sausages, cheese, tofu and Ramyeon. The taste is very rich and the broth more savory than other Korean stews. Of course, it is slightly spicy, but you should definitely give it a try!
Click here to join this food tour or find where to get the best Budae Jjigae in Seoul!
10. Bingsu
We cannot finish our Top 10 Ranking without including a Korean dessert!
If you have a sweet tooth, this is the perfect way to cool off in hot summer or treat yourself in winter. For me, it was love at first bite. Bingsu is Korea's number 1 dessert. It is shaved ice in a bowl with some toppings such as ice-cream, fruits, chocolate and everything you can think of! It exists in a traditional form with red beans or thousands of other flavors (Caramel, Green Tea, Strawberry, Cheesecake…) They change the menu every year!! Tip: The milk ice flakes have a creamier texture and richer taste than the version with water.  Moreover, Bingsu usually comes in a huge bowl, which makes it fun and easy to share with friends.
When you are in Korea, Bingsu is a Must-Try to sweeten your day!
Click here to join this tour or find where to get the best Bingsu in Seoul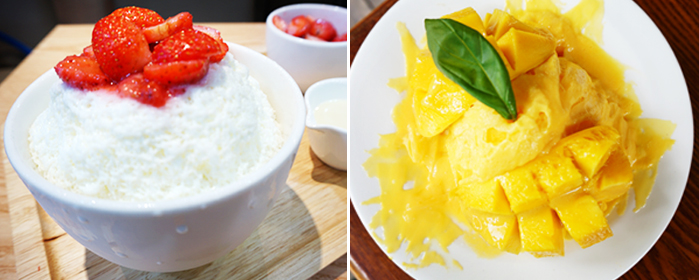 Check out more about Korean food:
Hanjeongsik – A meal for the Kings