Let's discover Bukhansan!
Mt. Bukhansan is located in the north of Seoul. The area is labeled as a National Park and the mountain itself is 78.45km wide. The name Bukhansan means "big mountain in the north". The National Park is very famous for its' great views and often titled as one of the "Must-See" spots in Korea. I have always wanted to go there! On a sunny Wednesday in early March, I finally got the opportunity to join Oneday Korea's private hiking tour.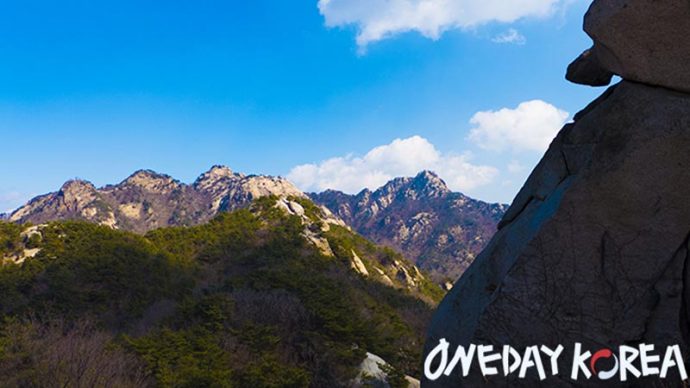 Let's get started
We started our Bukhansan tour by driving to the most remote areas of Seoul you could ever imagine. I have only known Seoul as busy metropolis, so I was stunned by the small alleys, historic buildings and particularly the calmness. When you look on the map, Bukhansan National park might seem nearby Seoul. But don't be fooled. It is quite difficult to reach it with public transport! Luckily, we drove in our private van and arrived fast and without problems.
The National park itself is huge and offers a variety of hiking possibilities. We decided to go from Gugi Information Center to Samobawi, which is about a 3 hours return trip and a total of 3.8kms.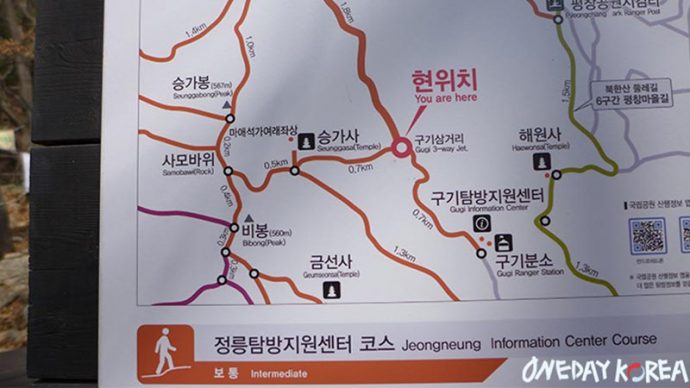 I was surprised there were no other tourists around. The only people we met while hiking were some sporty ahjummas and ahjussis in their bright hiking outfits (You don't need that professional hiking gear though. I think they just like the fashion 😀 )
The track
As spring is just starting, we had a stunning view on blooming nature. But I was told that it would be even better in late spring and autumn. The way started as a beautiful trail alongside trees and rivers. It was not that steep but reminded me of a nice walk in the woods.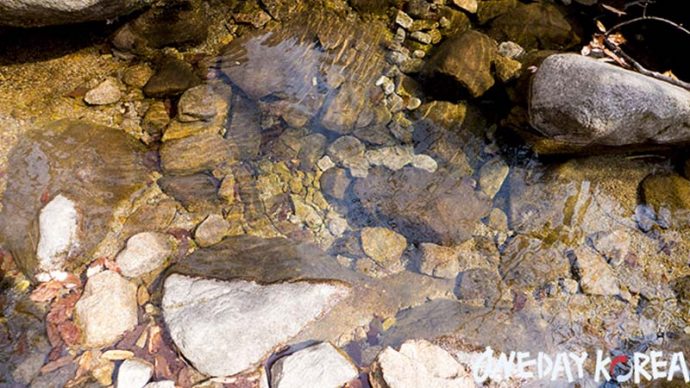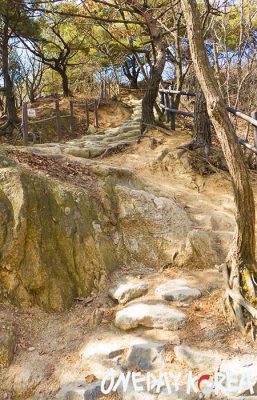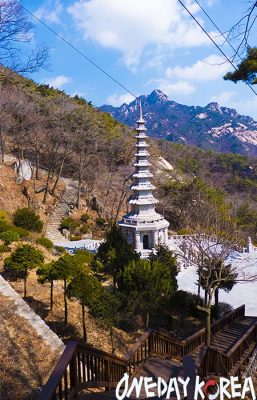 This stage lasted about 30mins, then it got slightly more challenging. We had to go a little bit more uphill and after some time, reached the beautiful, ancient Seunggesa Temple.
Seunggesa Temple
In Joseon Dynasty, the Buddhists were banned from the city, which is why they built their temples in the mountains. This temple is still in great condition, colored in bright blue, green and gold. And the area is huge! There is even a restaurant located inside the temple area!
We had a rest at the temple and continued the last stage. It was pretty steep but the landscape was beautiful! We were constantly walking on big rocks and "jumping" from one rock to the other while going higher and higher.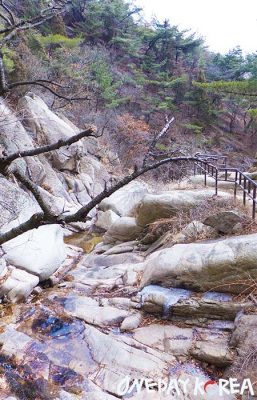 Finally – The Peak
After a total of 2 hours we finally reached the peak. First thing I noticed: It was suddenly very (!) windy, so be careful. But most importantly, the view was breath taking! On one side we could look down on the Seoul skyscrapers. You can clearly see how massive this city is. But on the peak of that mountain, everything seemed so quiet and peaceful. I remember seeing the usually impressive Namsan tower, which seemed like a small toothpick.
On the mountain, you can also see an impressive stone formation ranking into the sky. Next to it, the famous panorama view on mountains. Due to the great weather, we could see really far. Especially the mountain view is even more beautiful than on the pictures. If I had to choose, this side would be my favorite!
On the left side, you get another great view of some outer parts of Seoul until the 1 hour away located city Ilsan. It was really impressive how far you could overlook the country standing at the peak.
At that moment I knew the hike was worth it! We took a huge amount of great pictures too and has a nice rest. We started our way down, which was much easier than the way up! But be careful not to fall! As this is not a round way, we went the same way down that we came from. But as the way down is less exhausting, I could finally appreciate the beautiful landscape and take more pictures! The first thing that we saw when going down just seemed like a giant rock to me. But I was told that Bukhansan is also a place of historic events. The North Korean Army used to hide here while planning an attack on Seoul (many years ago, don't worry). You can actually climb under the mountain to see where they hid (be prepared to get your knees dirty).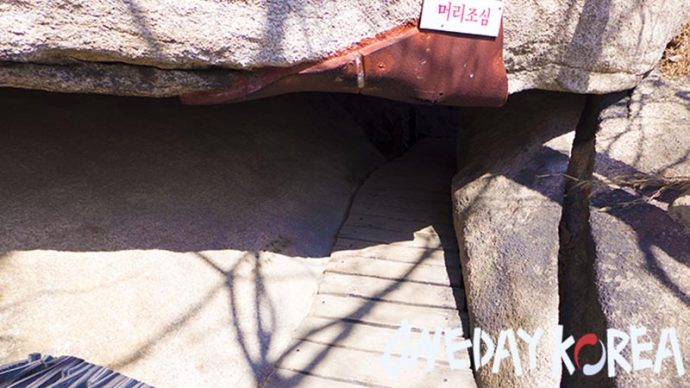 The story ended in a historic battle against the South Korean army, and only 1 person from North Korea survived (and lives in South Korea now). I didn't expect those fascinating stories to happen at such a calm place, quiet interesting!
Returning
When we finally reached our starting point after 3.5 hrs, we were really hungry and went to a nearby local restaurant. You cannot miss it as it is located right at the National Park's entry. It might look like it is closed but try to have a look inside! The food is really great and a motivating way to reward yourself after the trip. They serve a variety of Korean food and alcoholic beverages. We enjoyed Gamja Jeon, which is a traditional Korean pancake made from fresh, sliced potatoes. It was really delicious! And some iced rice wine to cool off after the exhausting hike 😉
Then we got back into our van and within 20mins we were back in busy Seoul, which is a completely different world.
If you need a break from the city, want some sun, nature, peace, and great views, I highly recommend visiting Bukhansan National Park!
Important Advice
It can be dangerous to hike alone in Bukhansan National Park (Some people got lost and never returned…). Take a professional with you! Even when you think the way is "easy" (Our route was marked as "easy" but I would not have liked to join a more difficult one…). It is best to "go safe" and book a tour when hiking here.
If you have time, I highly recommend visiting Seoul's best Jjimjjilbang/SPA, the "Dragon Hill Spa", which is located nearby! It is the most famous Spa, was featured in many TV Programs and offers everything from swimming to the sauna to massages. Really relaxing after an exhausting hike! Oneday Korea also offers a combined tour with hiking + SPA. Click here
If you need some more information, I recommend this article on what to bring/wear etc, or you can check out the best hiking insoles here > https://www.globosurfer.com/best-hiking-insoles/