Bukhansan National Park (which means the big mountain of the north) is a mountain situated in the north of Seoul.
Bukhansan, the big mountain to the north
Also called Samgaksan, Bukhansan 78.45km wide, has six districts and extends itself to Gyeonggi-do province. About 1,300 kinds of animals and plants live on the Mountain.
It is composed of three major peaks, Baegundae 836.5 meters (the main peak), Insubong 810.5m and Mangyeongdae 787.0m that make the mountain visible from most of the districts of Seoul.
The mountain is not only about going to hike but also cultural meetings with the Sangunsa temple (near the Bibong peak), the Munsusa temple or the Bukhansanseong Fortress.
All seasons are ideal to go hiking on Bukhansan. During Spring the flowers are blooming, in Summer the dense forest will protect you from the Sun. In Fall, the colors are magnificent and in winter, the snow creates a specific atmosphere.
The different peaks offer an incredible view of Seoul that worth the climbing; take your time to enjoy! 🙂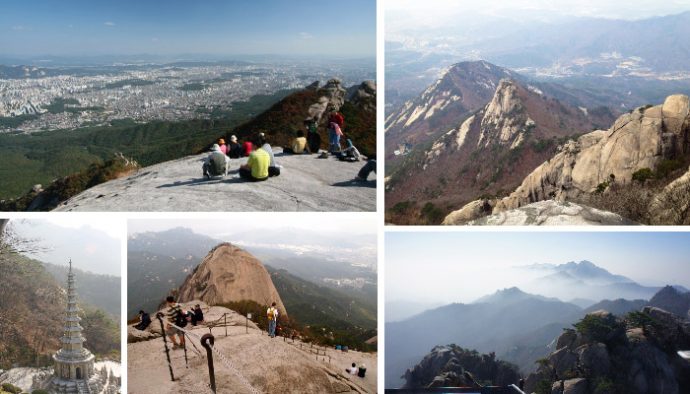 Some tips if you want to go hiking on the Mt. Bukhansan:
Forget the flip-flop and sandals; hiking boots are essentials (the path can be slippery and sloping)
Do not worries about the Korea wearing hiking outfit like is they were going to hike in the high mountain; comfortable clothes are enough
Take at least, 1L of water per person and some snacks
You can have a picnic when you arrive at the top (after effort comes comfort!)
Do not neglect the way down. If going up is tiring, the way down can be dangerous if you do not pay attention where you put your foot
Make sure to arrive soon enough to avoid ending up in the dark in the mountain
You can have a free lunch at Sangunsa Temple
Check our Bukhansan Tour! 🙂
More information> Bukhansan Hiking Experience  and  Relax and have a good time in Jjimjilbang
More mountain tours> Hiking Inwangsan Mountain and Fortress Wall Tour
Seoraksan Mountain Tour