Strawberry Buffet – The new trend in Seoul
If you like strawberries and desserts, you cannot miss this event! Korea takes the strawberry season to a whole different level. Hotels all over the country are hosting luxurious "strawberry buffets". Don't know where to go on a fancy date? There you go! A huge table filled with the finest strawberry desserts: tarts, cakes, macarons, pastries, cheesecake, cupcakes, pudding, ice cream, chocolate fountains and anything you can think of! It is truly a paradise for strawberry lovers.
And did you know that Korea's strawberries are considered among the best in the world? The location in Korea's rural provinces sets perfect conditions as the water and soil are particularly clean. Also, those strawberries are cultivated by using eco friendly methods, harvested during early dawn to ensure freshness and each berry is examined by experts. This is Korea's secret behind those sweet, juicy strawberries! And Koreans love their strawberries, that's why a few years ago, Hotels started organizing big strawberry dessert buffets and there is no comparable thing in the entire world. Have a look at those pictures and you will know what I mean!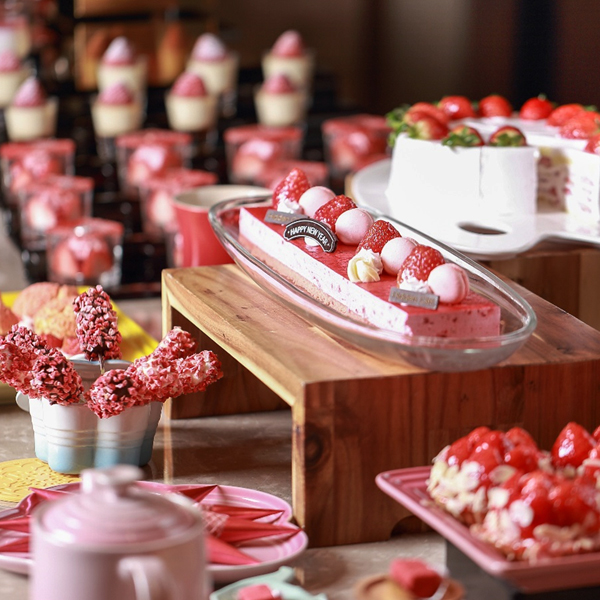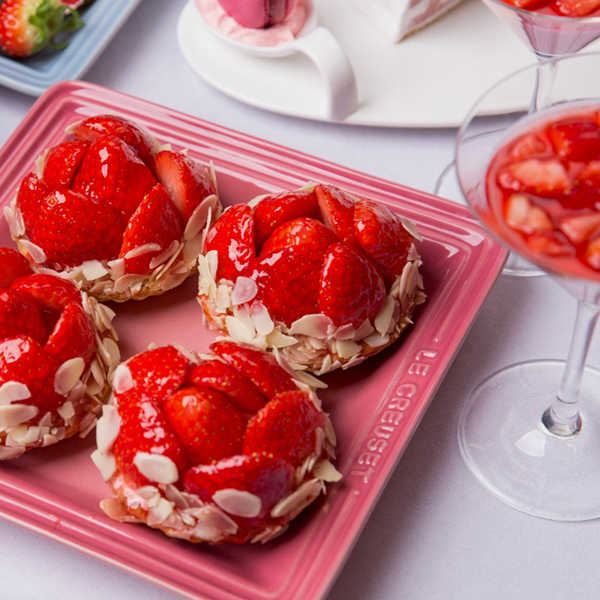 The buffets are overloaded with sweet goods and the organizers are going out more and more every year. Huge cakes, chocolate fountains, meters and meters of tables filled with the best pastries, creams and cakes. And each single piece is prepared with so much love and detail! Strawberry buffets are incredibly popular among locals and tourists, so you should make your reservation as early as possible!
They usually start in January or early February and run till the middle of April or early May. I admit, those buffets are pricey. The average cost per person is around USD$40-50. But if you are already in Seoul, treat yourself to a little luxury!;) I believe the money is worth this experience.
If you already stay in a hotel, you might just check out their strawberry buffet but if not, it is better to compare a little. Some strawberry buffets specialize in desserts, other hotels combine desserts with a strawberry-inspired lunch, like strawberry pasta or sushi!
Here are some comparisons between the most popular hotels in Seoul to go for strawberry buffet:
JW Marriot
The dessert buffet is definitely one of the best and probably includes everything you could imagine when it comes to strawberries, including strawberry pasta! 25 desserts including cheese cakes and mille-feuille pastries as well as some savory strawberry inspired meals. There are two locations: Gangnam and Dongdaemun. This year, the Dongdaemun location collaborated with Barbie, turning the buffet into a pink paradise! This meal is not only Instagram worthy but also delicious. Check out their weekday menu and weekend menu here.
Period: Now until April 30, 2017
-Price: Weekday(Monday to Friday): Adult 39,000 KRW / Children 25,000 KRW (2pm ~ 5pm). Weekend(Saturday, Sunday): Adult 56,000 KRW / Children 35,000 KRW (12pm ~ 2:30pm / 3pm ~ 5:30pm)
-Inquiry & reservation: Lobby Lounge +82 02-6282-6736
Sheraton Grande Walkerhill
Sheraton Grande Walkerhill's "Very Berry Strawberry" offers around 30 desserts including strawberry tiramisu, pastries, truffles, mini cupcakes, pudding and much more. Especially their signature strawberry tree is eye-catching!
Sheraton Grande Walkerhill Lobby Lounge "Pavilion", Restaurant "The View"
-Period: Every Saturday, Sunday 13:00 – 15:00 & 15:30 – 17:30
-Price: 58,000 won for adults/ 40,000 won for kids/ 30,000 won for preschool children (36 months – 7 years old)
-Homepage: http://www.sheratonwalkerhill.co.kr
-Information & Reservations: +82-2-450-4534 (Lobby lounge "Pavilion"), +82-2-450-4467 (Restaurant "The View")
Sheraton Seoul D Cube City Hotel
The Sheraton Seoul D Cube City Hotel presents a strawberry flavored chocolate fountain, strawberry cakes, panna cotta, tarts, parfait, mille feuille, meringue, macaroons, cookies, scones and much more. Salads and sandwiches are offered as well. The presentation is amazingly beautiful and each piece is delicious!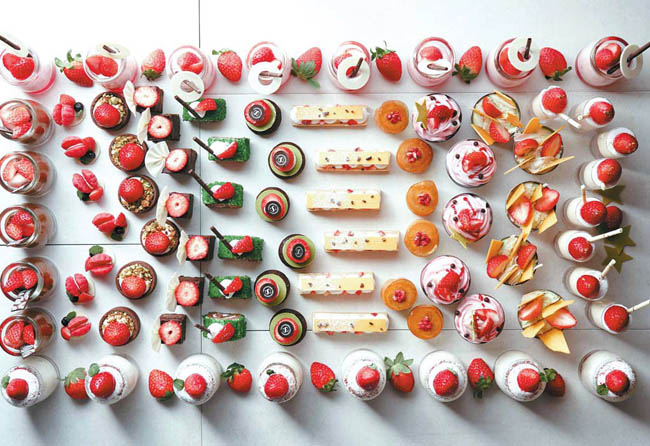 Period: Now until May 31, 2017 (Friday-Sunday and Public Holidays)
-Hours: 1st Seating 12:30 PM-2:30 PM, 3:00 PM-5:00 PM, 5:30 PM-7:30 PM
*1st seating is not available on Friday.
-Price: (Adult) KRW 44,000 / person, (Children) KRW 22,000 / person
-Location: Lobby Lounge.Bar 41F
-Information & Reservations:+82 2 2211 1740
Ritz Carlton
The Ritz Carlton located in fancy Gangnam offers the "Berry More Dessert Buffet" which includes about 30 delicious strawberry desserts focusing on all kinds of cakes and macarons. The place to go if you love cake!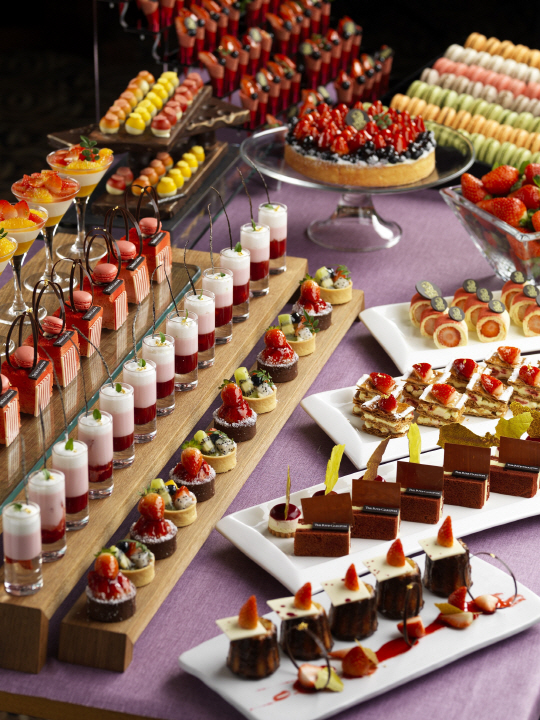 Note: The hotel is currently undergoing a renovation project. But we expect that the strawberry buffet will be continued after the renovation.
Italian Chef Federico Rossi's "Strawberries in the Sky"
Sky Lounge's "Strawberry in the Sky" offers the finest strawberry course menu. Prepared by an Italian Chef, you can enjoy strawberry pasta, pizza, couscous, sandwiches, tarts and cakes without limits. The two main dishes are strawberry risotto and grilled salmon topped with strawberry coulis balsamic sauce and they truly are masterpieces! Big plus: The breathtaking view from the 30th floor.
Period: Saturdays and Sundays from 3 to 5 p.m.
-Price (Adult)KRW 45,000/person
-Information & Reservations: Sky Lounge Italian Restaurant & Bar, 30F, (02) 3430-8630
InterContinental Lobby Lounge's "Strawberry Collection"
InterContinental's Strawberry Collection is famous for its' pink chocolate fountain and wide variety of desserts. They even serve strawberry flambé prepared right in front of your eyes! There is also strawberry cheesecake, compote, sweet strawberry pistachio cream cake, strawberry pies, pudding, whipped cream cake, custard, churros, French mille-feuille, macarons and Italian panna cotta – all strawberry flavored of course. And some savory dishes such as strawberry pizza (sounds weird but tastes great!), sandwiches and burgers.
Period: Now until April 16, Friday afternoons from 12 to 3 PM and two seatings on Saturdays and Sundays. Reservations are required.
-Price (Adult)KRW45,000/person
-Reservations and inquiries: Grand InterContinental Seoul Parnas Lobby Lounge & Bar (02) 559-7603, InterContinental Seoul COEX Lobby Lounge (02) 3430-8603
Now we made you hungry, right? A strawberry buffet is a great way to treat yourself or surprise your significant other! 🙂 But if you want to eat even fresher strawberries and experience everything from scratch, you can pick your own strawberries in winter here!
We also provide Nami Island tour , you can choose 3 options includes strawberry picking during winter and spring, strawberry are available every year between late December until early May!
Check out more about Korean food:
Seasonal fruits you should try
Hanjeongsik – A meal for the Kings
Let's go for a Seoul food tour? Check out more about our food tours:
The Best Food Tour in Seoul: Tradition vs. Modernity
Korean Street Food Walking Tour
Half day Royal Palace and Food Market Tour