10 Best Things to Do in Winter in Korea
Winter in Korea can be brutal with temperatures far below zero degrees and considerable snow fall. However, winter season still is a great time to visit Korea, especially if you want to see the country turning into a white winter wonderland. Here are our top 10 picks to experience Korean winter to the fullest:
1. Go Outdoor ice-skating at the Seoul Plaza (City Hall)
Outdoor Skating is an incredibly fun and affordable way to spend an afternoon in Seoul. For just 1 USD (1000Won), you can rent skates and discover the ice rink! If you come around Christmas time, countless decoration and Christmas lights will give you that warm fuzzy feeling while you glide on the ice.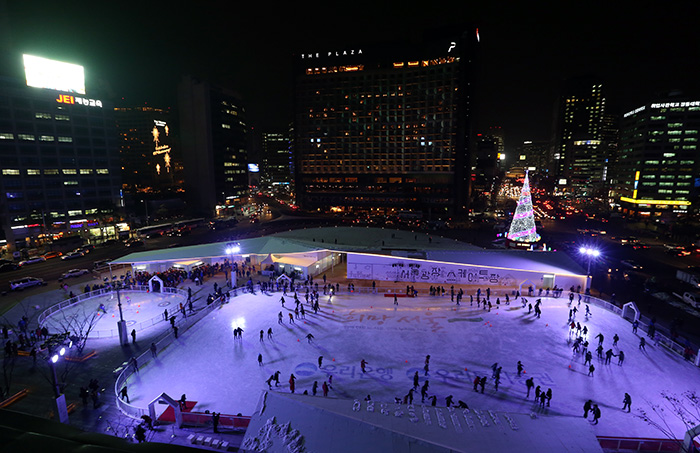 There are many more ice skating rinks all over Seoul. If you want to find one nearby your hotel, click here!
2. Skiing
Winter is the perfect time for skiing and Korea offers a variety of beautiful and high quality resorts! You can take lessons on how to ski or snowboard and choose between different tracks depending on your level. The great view on endless snow landscapes while riding the ski lift is another thing that you should have seen at least once.
Click here to join our one day Ski and Nami Island private tour
For more ski tours, click here
3. Strawberry Picking
Did you winter means strawberry season in Korea ? You can visit a strawberry farm and pick your own fresh strawberries and even make jam or cake there. An interesting and fun experience especially for families. And we can assure you, Korea's strawberries are the juiciest and tastiest strawberries you probably have ever eaten. Strawberry buffet also is available in Korea, click here to check the buffet location.
Click here to visit the strawberry farm and 2 more options as you want, or join the strawberry picking, snow sled and lighting festival tour!
4. Warm up with tasty Street Food
When the temperatures are dropping too low and you are lost on the streets of Seoul – don't worry. Just locate on of the small tents lined along the streets. Inside, you will find hot and delicious food! You can go for savory meals such as the famous spicy rice cakes (Doekbokki) in hot pepper sauce or sweet delights such as Korean hot pancakes filled with melted brown sugar, nuts and cinnamon (Hotddeok).
Click here
5. Take a Gondola to see stunning snow landscapes
If you want to have the best views on Korea's breathtaking snow landscapes, there is no better way than jumping in a gondola and get a great allround view! You slowly and comfortably ride up the mountain where even more snow is awaiting you. For snow-lovers who want a relaxed day, this is a great activity. Also highly recommended for families!
Click here
6. Try Ice Fishing
The Hwacheon Sancheoneo (Mountain Trout) Ice Festival (얼음나라 화천 산천어축제) is held every year in winter. Visitors can try the unique ice fishing or catch the mountain trout with their bare hands. Festival offer many other fun activities and performances such as an exhibition of ice sculptures, snow sledding, ice sledding, creative sleigh, elgomi Castle, elgomi Bike, ice soccer, bobsleigh and fun rides, etc. Visitors can also eat raw and grilled mountain trout after fishing.
Click here
7. See the most beautiful sunrise
Since the late 90s, the city of Gangneung have been the subject of quite a curious ritual among Korean students. Indeed, after starting their first year of university, young freshmen escaped their hometown over the night and hoped on the night train to go watch the country's very first sunrise of the year on Jeongdongjin Beach. College students considered this custom as a way to express their newly found freedom and their hope for a successful future!
The beauty of Jeongdongjin Sunrise now makes the beach a highly popular spot for professional photographers and tourists, as the view of the sun slowly rising beyond the rolling waves of the East Sea is particularly breathtaking.
8. Relax in a Jjimjilbang
During the cold and harsh winter month, nothing is more refreshing for body and soul than spending a few hours in Korea's hot saunas. The locals swear by that and many Korean women believe it is a key to their beauty. Besides purifying your body, you can pamper yourself with massages and facial treatments. Doesn't this sound like a heavenly afternoon plan for a cold day?
Click here
9. Have fun in Everland's Winter World
The biggest and most popular amusement park in Korea – Everland – has great winter offerings. The so-called "Snow Buster" is a huge sledding hill which lets you slide down the slope in no time. For your convenience, everything is provided at arrival, you can warm up in heated lounges and take the lift to get on the hill as fast as possible.
Purchase Everland discounted ticket or transportation:
40% OFF Everland Ticket (Ticket only)
Everland Shuttle Bus Package (Shuttle bus + ticket)
Private van to Everland (Tickets are not included)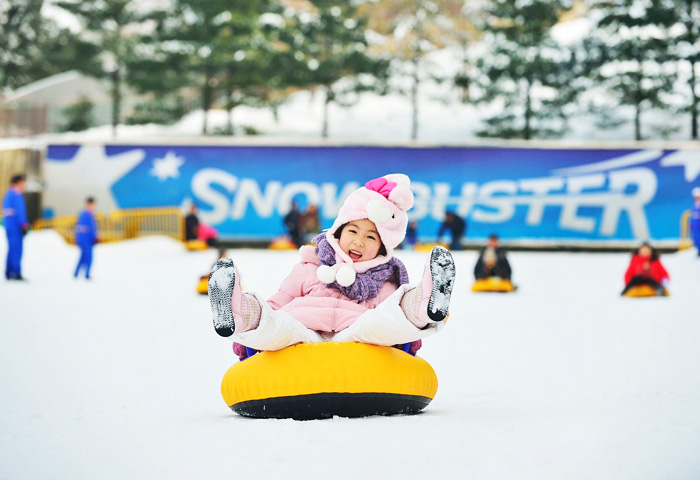 10. Garden of Morning Calm Lighting Festival
Every year in winter and spring, the mystical garden of morning calm holds a stunning lighting festivals. The whole garden is decorated with beautiful and colorful lights which will let you forget the cold easily. You can spend hours walking through the garden and enjoy the scenery.
Click here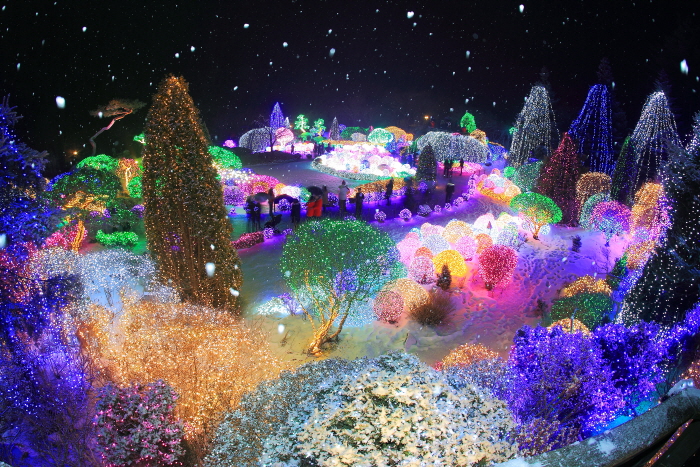 Check-out 10 great indoor places to visit in Seoul during cold winter and more winter tours!