Don't you know there are 900 traditional Buddhist temples in South Korea? Buddhist temples are an important part of the Korean landscape. You can visit the temples for a short-time during our tour or join a temple-stay program on your own which lets you experience the life of Buddhist practitioners.
Jogyesa Temple
If this is your first time to visit Seoul, and you don't want to travel too far from Seoul, Jogyesa temple should be one of the best temple that you have to visit during your Seoul trip. Even though the temple is quite small, it is the headquarter of over 2000 local temples. The structure of shrine, prayer or lecture hall, Sarira (cremated ashes) Pagoda and its wall paintings will appease you and bring you joy. There are many good attractions nearby this temple that are worth to see, such as Gyeongbok palace, Bukchon Hanok Village, Changdeok palace, Gwanghwamun Square, Insadong Alley. Check-out our best one day private tour to see the best places: One day old and new Seoul city tour
Bongeunsa Temple
Bongeunsa Temple located in the high rises of Luxury district "Gangnam", you can find the most expensive rent, Commercial Building, COEX shopping mall and many luxury brand shops, etc. This place also famous for the K-pop entertainment agencies. If you are K-pop fans, you must know this place and you can join our Hallyu tour in Gangnam.
If you want to visit the Bongeunsa temple, we can customize the itinerary for you. The Bongeunsa temple built in 794 during the reign of Shilla King Weongseong, every September 9th of the lunar calendar, the Buddhist ceremony is held, where monks march carrying the scriptures on their heads and recite the Beopseongge.
Guinsa Temple
Guinsa Temple is located in a deep valley, this varied, grandiose and brilliant headquarter temple of Cheontajong(Buddhist division compound out of Zen and non-Zen sect) is worth visiting. Even though the climb is a little hard your efforts will be rewarded with the beauty and solemnity of the silent temple and the amazing view. The nearest famous attractions are Gosu Cave, Dodamsambong Peak, Mancheonha skywalk, etc. Check-out our Danyang Eight Scenic Views Dodamsambong Peak & Chungju Lake Cruise Tour
Tapsa Temple
Tapsa Temple is a small Korean Buddhist Temple located in the Maisan Mountain of North Jeolla Province.  In 1885, Buddhist hermit layman Yi Gap Yong (1860–1957) came to Maisan Mountain to meditate and cultivate himself. He constructed as many as 120 conical natural stone pagodas all without mortar over 30 years. The style of the stone pagodas found here is very different from that of the stone pagodas, typical of the Shilla era. Visitors need to climb up to the temple through a scenic hike through the cliffs and mountain peaks, you can also visit the nearest attraction Jeonju Hanok Village. Check-out our Winter Scenic Gondola Ride & Maisan Tapsa Temple One Day Tour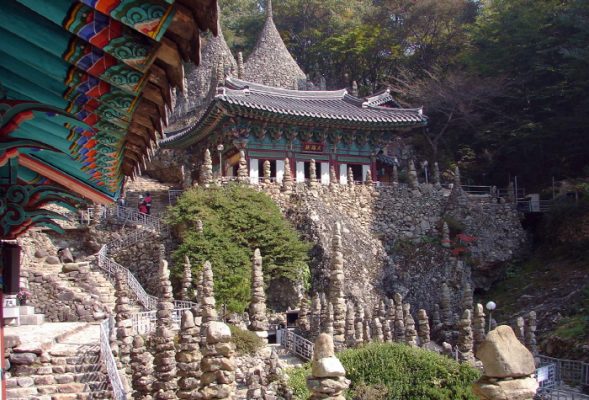 Haeinsa Temple
Haeinsa temple which has been appointed as a universal cultural heritage in 1995 for its cultural importance and historical remains. This temple is located on Gaya mountain, and houses the most complete collection of Buddhist texts, engraved on 80,000 woodblocks between 1237 and 1248. The most famous national treasure of Haeinsa Temple is the Tripitaka Koreana. Since the 23rd year of Goryeo Dynasty, people took 16 years to finish the Tripitaka Koreana, which was made as a wish to overcome the national crisis caused by Mongolia Invasion. The 81,340 painting blocks include 6,791 volumes, 68 cm wide, 24.5 cm long and 3 cm thick. Check-out our 5D4N Korea Cultural Heritage immersion Tour
Hyangilam
Located on Dolsando Island, Hyangiram Hermitage along with Odongdo Island is a must-see in Yeosu! Located high up in the cliffs and providing one of the best views of the South Sea in Korea, this turtle themed temple which was established over 1300 years ago will surely let you wonderful memories. The walk to the hermitage will lead you through gentle but also narrow passages and staircases carved in huge stone blocks until reaching the main building. During your visit, you will find dozens of stone-carved turtles, camellia trees and beautiful ancient temples while admiring the South Sea spreading out in front of your eyes. Check-out our Yeosu Maritime Cable Car Tour
Bulguksa Temple
Gyeongju with a history of 2 millennia, which was the capital city of Silla Dynasty(57 BC to 935 AD). This whole city is a UNESCO cultural heritage. The state ideology of Silla was Buddhism and its kings also called themselves Buddha. Masterpieces of Buddhist relics in Oriental World are Bulguksa Temple and Seokguram Grotto, the architecture can be described with distinctive features of magnitude vs. moderation,  complexity vs. simplicity and romantic vs. classical. Check-out our 5D4N Korea Cultural Heritage immersion Tour and Gyeongju One Day Tour – The Museum Without Walls
Magoksa Temple
Magoksa temple is a head temple of the Jogye Order of Korean Buddhism in Gongju city. It was established in 640 by Vinaya Master Jajang Yulsa. This temple were burned down during the Japanese invasion of Manchuria.
Haedong Yonggungsa Temple
Haedong Yonggunsa temple means Dragon palace temple, it is one of the most unique temples in Korea because it is near the coastlines.
While most temples are situated among mountains, Haedong Yonggungsa Temple in the coastal southern city of Busan stretches along the coastline overlooking the East Sea and Songjeong beach. Stone stairways and lanterns course along the rocky shore offering breathtaking views of the ocean and sunrise. Visitors need to climb up the 108 stairs and bridge to main temple area. Check-out our 5D4N Korea Cultural Heritage immersion Tour
Beomeosa Temple
Beomeosa Temple means temple of the Nirvana fish, it was built on the slopes of Geumjeong mountain. It was established in 678 as one of the ten major temples of the Avatamsaka School, visitors can enjoy the best scenery of Mt. Geumjeongsan and Beomeosa Temple during your Busan trip.
5D4N Korea Cultural Heritage immersion Tour