Korea traditional markets are hidden gems! Clothes, fabric, food, electronics stuff, no markets miss these products. Huge and most of the time crowded, these markets reflect well the local lifestyle of Koreans. They are often located in residential neighborhoods or also around grand palaces and historical attractions. The famous ones are mostly located in Seoul, and remain below the tourism radar but are still welcoming whoever wants to visit them!
The range of variety is broad and therefore as they are numerous you will only read the most unique markets of Seoul. People who visit it will get a glimpse of Korea's past, get to meet locals and shop for low prices and get their hands on unique souvenirs to add a special touch to their trip!
1. Namdaemun market
It is the largest traditional market in Seoul. Selling different kinds of goods including clothes, shoes, houseware, accessories, hats, glasses, food, flowers, tools, fine arts, carpets, flowers, electronic appliances, furniture, ginseng, and much more, it has 10,000 stores making him the bigger market around Seoul. The opening hours are usually between 11:00 pm to 3:00 am.
How to get there: 
Hoehyeon Station (Seoul Subway Line 4), Exit 5.
2. Dongdaemun Market
It is home to the largest clothing suppliers in Korea when a new fashion item appears it is usually making its debut in the market. Dongdaemun is, therefore, renowned for its fabric markets. You will be able to find good quality clothes from locals designer at affordable prices. The diversity and cheap prices do attract not only fashion followers but also average consumers to get a glimpse of the latest fashion trend. The market opened in 1905 and began to develop only in the 70s as the primary market in the textile industry. Mixing traditional and modernity, it has become a place frequented by international and famous local buyers. Wholesalers enjoy the market at night, portraying a beautiful night image of the market.
How to get there:
Take the subway line 1 or 4 and go to Dongdaemun Station. Many of the exits will get you into the market depending on where you want to go. Try exits 1, 4, 5, 13 or 14.
3. Yongsan Electronics Market
If you wish to buy electronics and IT products, Yongsan electronics market is the place you should not miss! This enormous wholesale electronics market is located near the Yongsan Train Station and homes all kind of product related to computers, imported audio systems, game utilities and more. It opened in 1988 when the city was being rehabilitated and has since then been providing all electronic parts needs including computers, DVDs&CDs, etc. The market is famous among local and foreign buyers as it sells electronics product 15 to 30% cheaper than retail stores.
How to get there:
The easiest way to go to Yongsan electronics market is to take the subway. Take the line 1 and get off at Yongsan Station and go to exit 3.
4. Noryangjin Fish Market
Opened in 1927, Noryangjin fish market is located near Seoul Station, and count in its neighborhood Seoul's 63 building and the Han River. It is today one of Korea's largest and oldest seafood markets with a floor space of about 6,000 square meters. Usually opened 24 hours, the best time to visit it is early in the morning, during first auctions around 4 am to 6 am when they fight over the freshest fish. When the sales start, it then comes alive!
The market handles about 50% of metropolitan volumes and around 250 to 300 tons of marine products are being traded every day. The prices are decided according to the quantity you wish to buy. Visitors just enjoy visiting this place to discover all sorts of strange creature they have surely never seen before. You can also experience one of the freshest meals of your life! Indeed, you can purchase seafood and have it prepared on site in close restaurants. You can also enjoy raw fish and few bottle of soju for a little bit more than 16 000 KRW, to have probably the best meal in your life ever.
Join our Food Tour at Noryangjin Fish Market
Read more about fish market: Noryangjin fish market: Seafood heaven
Noryangjin : True Experience of Korean Life
How to get there: 
Noryangjin Station (Seoul Subway Line 1), Exit 1. It is only 100 meters away.
5. Gwangjang Market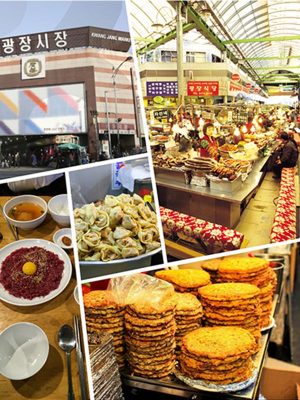 The Gwangjang Market is the first traditional street market that has over 100 years of history in Korea. It is one of the largest and oldest traditional markets and is famous for its quality fabric, hand-made goods, and street food. So, continues to thrive as a popular destination for foreign tourists. If you are looking for a Korean cultural experience or Korean street food, you must visit it. One of the most famous food is bindaetteok(mung bean pancake). Fried in oil until it is golden brown, and made using mung beans, green onion and peppers. You can see and experience Korean food at an inexpensive price. If you're full, look around the second floor. You will find all sorts of textiles, quilts, and traditional Korea dress called Hanbok.
These Fabrics are some of the largest and most famous in Seoul. All kinds of beautiful fabrics including silk, satin, and linens can be found easily here. And another side, there is many vintage shops. The vast selection of high-quality products at inexpensive prices makes it your shopping joyful although the products are no-name goods. It is possible for a person who have a good eye to get high-quality items or even designer labels at bargain prices.
Gwangjang market is the best choice if you want to experience Korean culture and food.
Join our One day old and new Seoul city tour or K-Food tour to visit Gwangjang Market.
Read more about Gwangjang Market: Gwangjang market, Largest Korea traditional market
How to get there: 
Jongno 5-ga Station (Seoul Subway Line 1), Exit 8.
Euljiro 4-ga Station (Seoul Subway Line 2 & 5), Exit 4.
5.Gyeongdong Market
Initially selling agricultural wares, Gyeongdong has become the biggest oriental medicinal herbs market providing around 70% of the country necessities. In this unique market, you will be able to witness traditional Korean hanok and wooden medicine cabinets. As a visitor, you will be able to experience the big attraction called "Korean traditional medicine experience hall for foreigners" by KTO offering a hands-on program.
They can try making oriental herb soap, incense bags, herbal foot baths, and rice cakes, receive a general checkup and acupuncture from a physician, and on top of that free of charge coupled with free language interpretation services in English, Chinese and Japanese.
How to get there:
Take the subway line number 1 and get off at Jegi-dong Station, Exit 2. The market is directly accessible from the exit.
6. Seoul Folk Flea Market
Seoul Folk Flea market offers folk souvenirs, regional specialties, clothing, food, and miscellaneous items. Like most of the previous markets we have seen before, this market has also undergone radical changes and went under modernization. In here you will find countless shops selling everything from everyday apparel to vintage items. Might you be a casual shopper or collector, you will be able to find what you are looking be it old or new items.
It includes Food court, sundry goods, clothes, antiques, and local goods. It is the perfect place to find rare and unique travel gifts for friends or your loved ones when returning home. Apart from the shopping, you can try free hands-on activities at the market's Traditional Culture Experience Center. These include making hanji (Korean traditional paper) crafts, folk masks, and other traditional items.
How to get there: 
Sinseol-dong Station (Seoul Subway Line 1 & 2), Exit 6, 9 or 10.
The Seoul Folk Flea Market is about 5-minutes away from the subway exits.
Well, of course, the list of traditional markets in Korea is exhaustive and so, we could have continued, but you have here the six most important and unique markets of Korea. You will have plenty of surprises and glimpse of Korean culture by going to these ones, as for the rest you can check them out as they are in the same area, so pretty convenient 😉 . Stay tuned for other blog post of ONEDAYKOREA about Korea unique features !
Find out  our Seoul Shopping tour of onedaykorea.com, the largest selection of Korea tour packages. ^.^
More information about other markets:
Make your own Korean style lunch box : Tongin market
Seoulite night life : Seoul Bamdokkaebi Night Market