Busan Vacance~
You've planned to spend summer vacation in South Korea? Summer is coming along with summer break so you have to go to Busan and enjoy summer time solo, with friends or family. This article will introduce you to famous Busan's beaches.
Located on the southeastern-most tip of the Korean peninsula, it is the biggest city in terms or surface and population in South Korea after Seoul. It is the largest port city in the country and the world's fifth busiest seaport by cargo tonnage. When it comes to cultural and international invent, Busan is very dynamic too.
For many Koreans and foreigners who came to visit Korea, it is a "sea city", a synonym of vacation and beach time!!!!!! Busan's beaches are just one of the things that make Busan a beautiful city to discover. Here are five beaches where you should stop and spend a lazy sunny day.
Haeundae Beach
It is probably the most famous beach in the country. It is 1.5 km long and 30-50m wide. Haeundae is known for its rough white sand which sticks easily to your skin. The sand is composed of sand that comes from Chuncheon Stream and shells that have been naturally eroded by the wind over decades.
Life in Haeundae resolves around Dalmaji Hill, which is Busan's art district. This area is also renowned for its cultural events and festivals held all year long. You can also have the feeling that is a fancier area compared to other town's neighborhood.  During summer tons of people rush there to soak and refresh themselves. If you like a calmer and less crowded places it is probably not the best beach for you to go.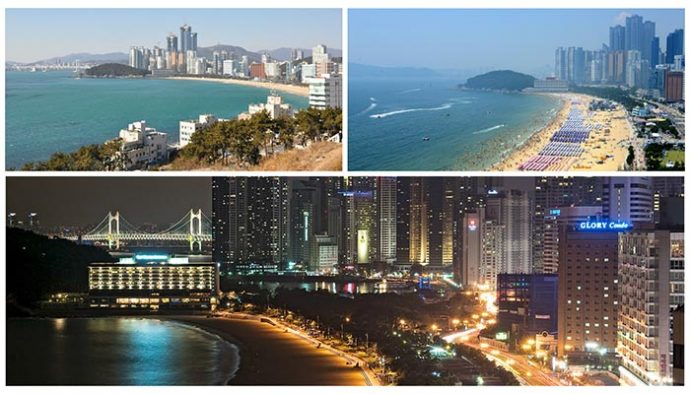 Gwangalli Beach
It is also called Busan's city beach. This area has undergone a water cleaning program, and as a result, the water of the beach is pristine. You can enjoy different water sports like:  water-skiing, jet skiing or windsurfing. There is also an open sky stage on the beach which welcome Busan Ocean Festival but also Busan Fireworks Festival and other various events each year . This area is a cultural center where you can find  museums, theaters for plays and movies, an art gallery, TV station, and famous Korean and non-Korean fashion brand name shops. Gwangalli is particularly renowned for its night view of the "Diamond Bridge". When the nightfall, lights of the building reflected into the sea and gave a romantic atmosphere to the beach. You can have a dinner with your lover or drink with your friend as the seafront is full of bars, cafes, and restaurants. And what about shooting some fireworks after?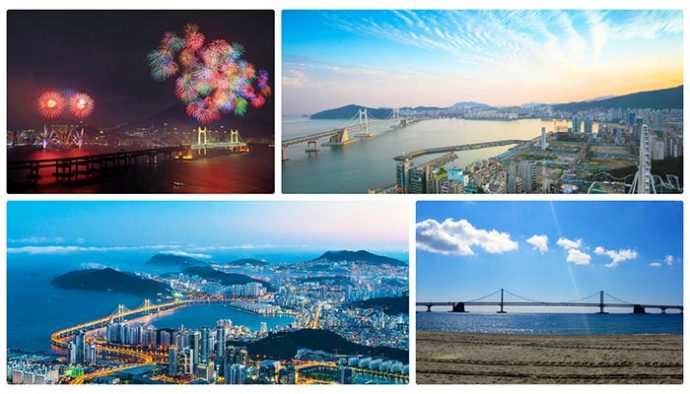 Songjeong Beach
This one is probably one of the best beaches to go if you are looking for an enjoyable lazy day. More secluded than the two previous beaches, it is still close from the city. And if you like seafood then walk down few hundred meters to the southwest end of the beach, and you'll be able to find good restaurants.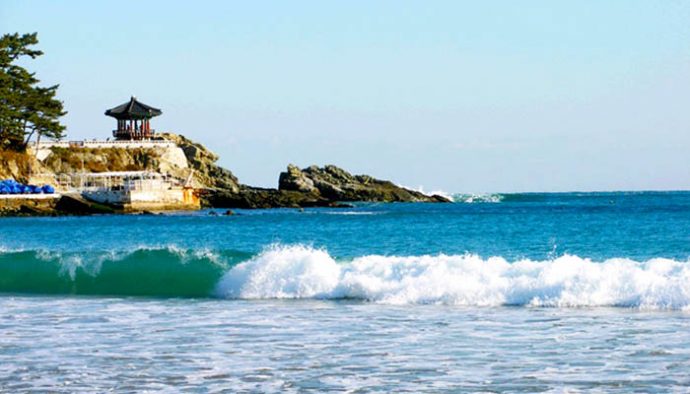 Songdo Beach
Songdo Beach is the official Korea's first beach. It was inaugurated in 1913 and was very popular during the 1960'. Since 2000' it has re-emerged as a must-stop on local tours. Local also call this place Pine Island, due to the lush pine trees which grow alongside the shore. There are also some great rock that you can climb to have a beautiful view of the beach and surrounding hills. Located just three kilometers from Nampo-dong, Song-do offers a romantic backdrop for couples looking for some peaceful and quiet places, away from the hustle and bustle of the city.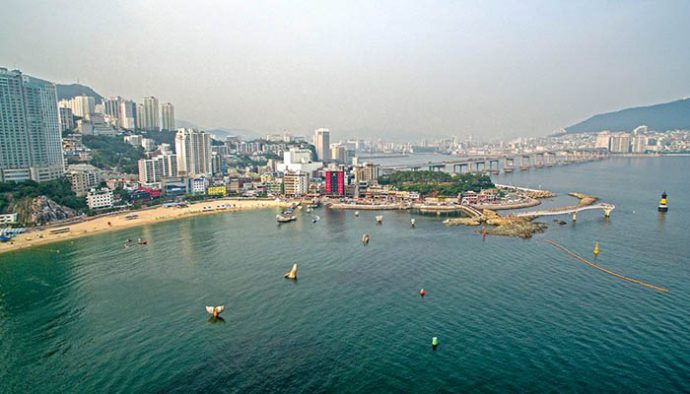 Dadaepo Beach
It is farther away from Busan's heart, but that make it a more secluded and precious one.  It is an excellent place to chill out. You can have a picnic, collect a few seashells and go for a swim in shallow water.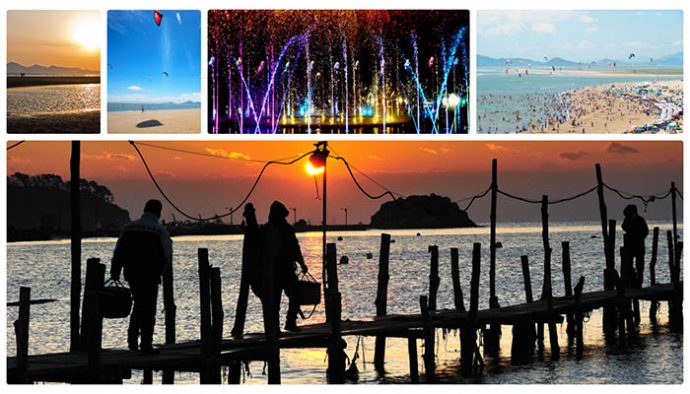 If the article gave you the will to discover this dynamic city and its treasure, here is the like to our  tours in Busan:
Best day trip in Busan, you can take KTX train between Seoul and Busan on your own, our guide will meet you at the Busan station.
You can also join this trip if you stay in a hotel in Busan > One day Busan City Tour (Depart from Busan)
KTX train tickets online reservation
Multi-days tour including visit Busan city:
3 Days Busan Tour  2 Days Busan Tour  5D4N Korea Cultural Heritage immersion Tour  A Journey through South Korea – 10D9N  10D9N Highlights of Korea Group Tour  3D2N Busan & Gyeongju Tour
More places of Busan: Gamcheon Culture Village
10 Best things to do in Korea in Summer  What to do in Summer in Korea