It's not just Cherry Blossoms! There are many beautiful flowers beside the Cherry Blossoms. Canola Flower Festival is one of the most famous festivals in Korea.
It is one of the landmark spring celebrations in Korea. It takes place every April to May and provides stunning views of canola flowers.
Canola flower, also known as Yuchae flower in Korea. It is a bright yellow flower and cultivated mainly for its oil-rich seed. It is the third largest source of vegetable oil in the world.
Where to see Canola Flowers in Korea? Here you can find some famous Canola Flower Festival information!
JEJU ISLAND & SUBURBS
Jeju Island (Mt. Sanbang / Seogwipo Noksan-ro / Udo Island)
Jeju Canola Flower Festival is the most famous spring flower festival in Jeju Island, begins from late March to April, the canola flower fields upon fields of bright yellow flowers.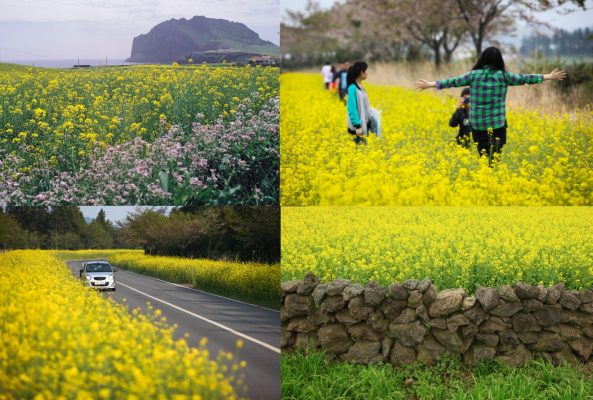 10 Best things to do and see in Jeju Island
Busan (Daejeo Ecological Park)
Daejeo Ecological Park is designated natural memorial No. 179. The park is famous for its Nakdong Canola Festival in April every year.
Gyeongju (Banwolseong, Gyerim, Cheomseongdae Observatory)
Gyeongju was once the capital of the Silla Kingdom, the longest surviving kingdom in the history of the peninsula, for almost 1000 years. Bright yellow canola flowers bloom along the path connecting Banwol fortress, Gyerim and Cheomseongdae Observatory in April and May.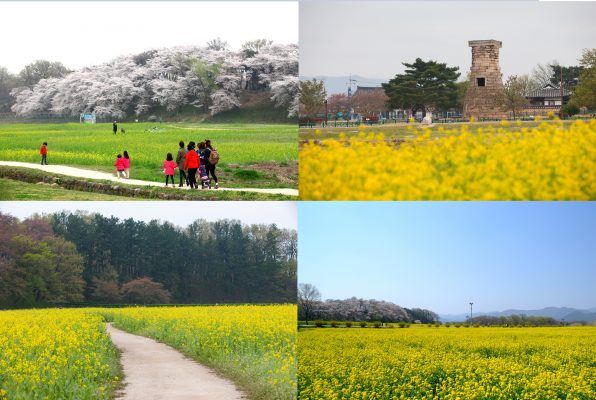 Check out our Gyeongju Cherry Blossom Tour !
Suncheon (Sucheon Bay National Garden)
Venue of the 2013 Suncheon Expo, this garden is composed of various themed gardens inspired from eleven countries such as France, England, China or the Netherlands. It also includes an arboretum and a wetland center, but the area is so vast that visitors would need at least a whole day to visit it entirely. The numerous groups of canola flowers in full bloom in May every year.
Samcheok Maengbang
The festival boasts a breathtaking view of canola flowers in April, also cherry blossoms in early April. Visitors can visit a local produce market, strawberry farm and nearby attractions such as Haesindang Park.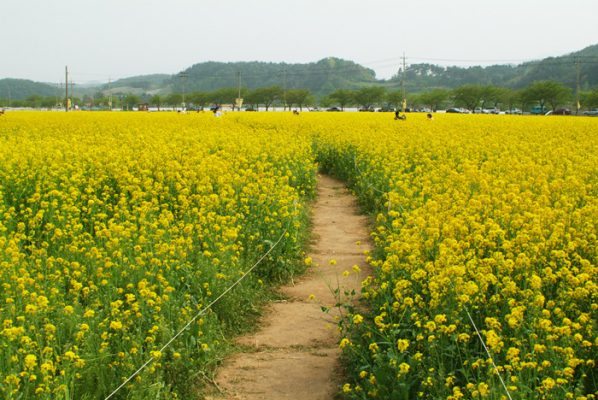 Join our Gwangwon All-in-one Spring Tour !
SEOUL
Hangang Seoraeseom Canola Festival
Date: May 05-06, 2018
Address (English) : 40, Sinbanpo-ro 11-gil, Seocho-gu, Seoul
Address (Korean): 서울특별시 서초구 신반포로11길 40
Seorae Island is an artificial island built in the mid-1980s. This is located next to the Han river, the island is connected to Hangang Banpo Park by three bridges. Seorae Island held Canola Flowers every year. Canola Flowers Festival is one of the landmark spring celebrations in Korea. This festival boasts a breathtaking view of canola flowers and Han river.
Guri Hangang Park Canola Festival
Date: May 11-13, 2018
Address (English): Topyeong-dong, Guri-si, Gyeonggi-do
Address (Korean): 경기도 구리시 토평동
Guri Hangang Park also known as Cosmos Park, it is a place for people to rest and enjoy the beautiful flowers. The most famous festival is Cosmos flower festival which is held on October every year and the canola flower festival.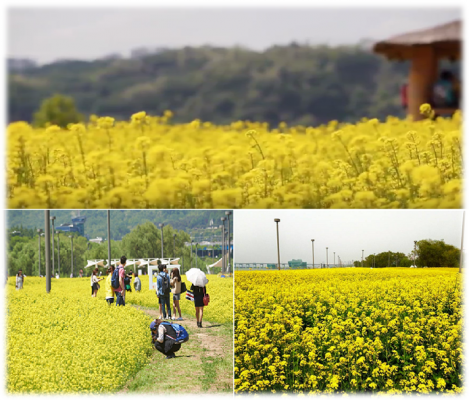 사진제공: 한국관광공사
Read 10 best things to do in Spring in Korea  and  check-out our Spring tours