The TOP 5 SPOTS to see cherry blossoms in Seoul
Korea's cherry blossom season is beyond beautiful and can definitely keep up with Japan's Sakura. The magical white and pink flowers bloom mostly on the countryside, but even in Seoul City you can have a glimpse of their beauty and detect their sweet scent. However, their blooming is limited to a few days in a year so make sure to plan your trip well 😉 To help you enjoy Korea to the fullest, we created the ultimate guide to Seoul's TOP 5 spots to experience the alluring cherry blossom season!
The blooming dates vary within Korea but a safe time to travel is usually between late March and April. In Seoul City, the most beautiful cherry blossoms are expected to be seen between early April to mid-April in 2021.
Join our One day old and new Seoul city tour, our guide will bring you to see the beautiful Cherry blossoms during blooming period.
More Spring tours.
The TOP 5 SPOTS to see cherry blossoms in Seoul
1.Yeouido Spring Flower Festival
Yeouido is a small island on the Han River and Seoul's Number 1 spot to be fascinated by the cherry blossom. The Spring Flower Festival, which takes place every year at this time, has a lively atmosphere. Tourists and locals get together to enjoy the pretty white ocean.
There are over 1600 blooming trees, turning the island into a pale pink paradise. Staying until evening allows to see the trees illuminated, which is another impressive scenario. If you don't mind crowds, this stunning event is Seoul's most popular spot to admire the gorgeous cherry blossoms.
How to get there: Yeouinaru Station (Line 5), Exit 2 or 3; Dangsan Station (Line 2, 9), Exit 3, 4.
2.Seokchon Lake
Seokchon Lake is another breathtaking location to enjoy Sakura season. Hundreds of trees are arranged around the lake. Their light pink blossoms are waving through the air, leaving a magnificent scent. An incredibly romantic place and Lotte World Amusement Park  is nearby, which is perfect for children or dating 🙂
How to get there: Jamsil Station (Line 2, 8), Exit 2 or 3.
3. Seoul Grand Park
Seoul Grand Park is a big area which allows enjoying the cherry blossom season to its' fullest. Of course, the graceful pink pastels attract visitors, but it is less crowded than in Yeouido or at Seokchon lake. Seoul Grand Park is a great place for a family trip since an amusement park and zoo are located inside. While taking a break from the marvelous scenario, the park makes a perfect place for picnics too.
How to get there: Seoul Grand Park (Line 4), Exit 2.
4. Gyeongbokgung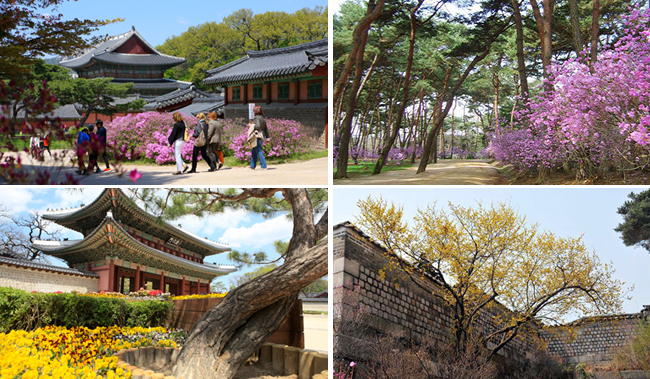 Gyeongbokgung is the most famous palace in Seoul and it is even more attractive during cherry blossom season. The pale pink blossoms combined with the ancient buildings are so charming.
How to get there: Gyeongbokgung Palace Station (Line 3), Exit 5.
5. Namsan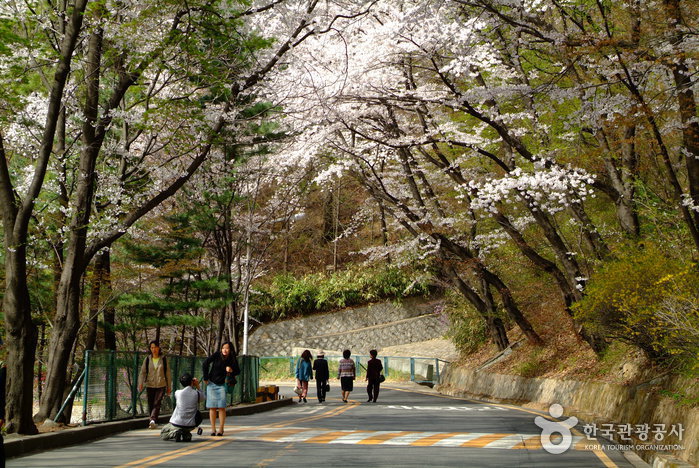 Namsan is well-known for its' great view on Seoul and scenic walks. During cherry blossom season, beautiful pink and white trees await their visitors and you can just hop on the cable car for an even better view on them.
How to get there: Namsan Cable Car: Myeongdong Station (Line 4), Exit 3. Take the road to the right of Pacific Hotel and walk for 10 minutes.
Cable car fare: Round-trip (Adults 8,500 won / Children 5,500 won) / One-way (Adults 6,000 won / Children 3,500 won)
However, if you want to avoid crowded Seoul during cherry blossom season, have a look at our spring tours here 🙂
You can also read 10 best things to do in spring in Korea  or  Where to see Canola flowers in Korea
10