Seoul Rose Festival 2018
Every year in spring, Korea holds stunningly beautiful rose festivals, featuring tens of thousands of roses. Keep on reading to find out about the most beautiful rose festivals in the country:
1. Seoul Grand Park Rose Festival
Every spring, Seoul Grand Park holds a captivating rose festival. The over 290 different rose species originate from all over the world and their beauty will surely take your breath away. Besides beautiful flowers, visitors can enjoy a rose pool filled with petals as well as various concerts and performances.
This years is the 18th Seoul Grand Park Rose Festival. It starts on May 26 and lasts until June 10. It will take place in the Rose theme garden of Seoul Grand Park.
Seoul Grand Park is a mesmerizing park consisting of the Seoul Grand Park Zoo, Seoul Land Amusement Park, the Seoul Museum of modern art and the Grand Park Rose Garden.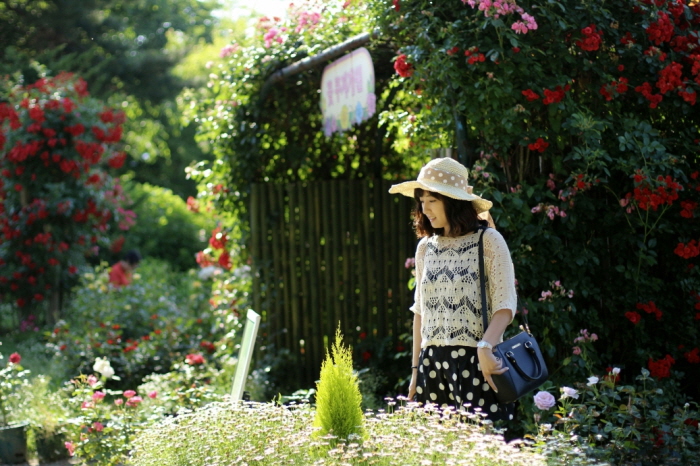 You will be able to enjoy the beauty and fragrance of countless beautiful and unique roses, including world-champion roses such as the graceful "Princess de Monaco", which was dedicated to the actress Grace Kelly who later became the queen of Monaco.
You can rent funny photo accessories to take best pictures in front of the stunning flowers and join a photo competition. Moreover, there is a magic show which will leave you speechless and the "Rose and Love Concert" which you should not miss. There are many more fun and romantic activities designed especially for couples, making the Rose Festival the perfect spot for a date!
Entrance
The entrance fees for adults costs 2000won (about USD2), 1500won for Teenagers and 1000won for children.
Transport
Take the Seoul Subway Line Number 4 to Seoul Grand Park Station and take Exit 2 or 3.
Website: Click here
2. The Million Rose Garden
The Million Rose Garden in Bucheon presents a Rose Festival as magnificent as the garden's name. The festival is held from May 17 until June 11.
The Bucheon City government has planted 45.000 roses since 1995, making it the nation's largest rose garden. The huge amount of roses come in countless colors and shapes that you might have never seen before. Once you arrive, you will be greeted by the overwhelmingly sweet scent of roses and besides that, can also enjoy a variety of entertaining live performances.
The garden was established under the motto "Fun and Love" and these values are represented throughout the design of the garden. What makes this garden special are the steel frameworks that were used to grow the rose vines in a certain shape, such as tunnels or animal models. This makes the garden even more fascinating and a great photo spot.
Entrance
Free of charge
Transport
Take Seoul Subway Line Number 7 and exit at Chunui Station. Then go to exit number 7 and take bus 661 to Million Rose Garden (백만송이장미원).
3. Seoul Rose Festival : Jungnangcheon Stream's Rose Tunnel
Do you want to make unforgettable experiences with your significant other? If so, this is the place for you: The Rose Festival in Jungnang-gu in Seoul takes place from May 18 – May 20 in 2018. It does not only present stunningly beautiful roses, but also the longest rose tunnel with an unbelievable length of 5km!
The 3 day festival holds many more love-related events as the themes for 2017 are "Rose Day, Lovers' Day, Wives' Day". Many people come dressed in the traditional Hanbok and take beautiful pictures in the flowery scenery. If you visit at night, you will experience the beautiful flowers in mesmerizing light installations. The romantic scenery also offers Garden dinners, which would make a perfect spot for a proposal!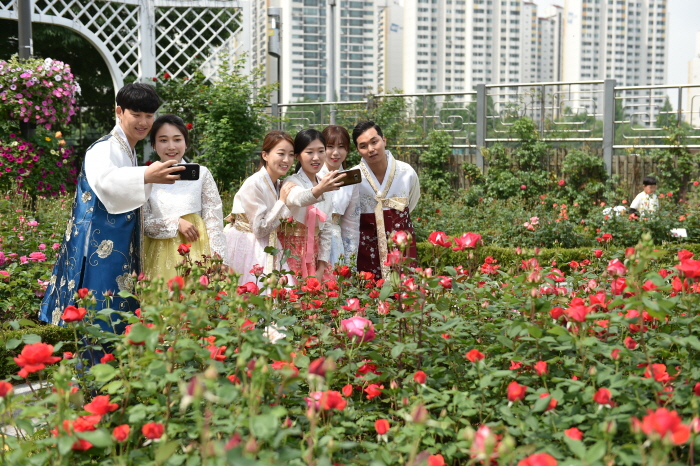 This is the most popular rose festival in Seoul with over 770.000 visitors in 2016 and the numbers are expected to grow.
Entrance
Free
Transport
Take Seoul Subyway Line 7 to Meokgol Station and take Exit 7. Walk for about 40m, then turn left and walk for another 400m to Jungnangcheon Stream.
OR
Take Seoul Subway Line 7 to Junghwa Station. Take Exit 4 and turn left. Then walk 400m straight until you reach Jungnangcheon Stream.
Website: Click here
Read next : What to do in Korea in May! and The 10 Best things to do in Spring
Read another article about spring flowers: Where to see Canola flowers in Korea?
Check-out our Spring tours HERE