Nami Island is a tiny half-moon shaped island that about 60km away from Seoul. Not a natural Island but formed as a result of the construction of the Cheongpyeong Dam. This island is famous for its beautiful tree lined roads and sceneries. The Island is 90 minutes away from suburbs of Seoul. It takes 1-hour driving and 1.5 hours on the train.
 Culture and leisure in harmony within Nami Island.
If you are old Korean drama fan, you may know "Winter Sonata." This island must be meaningful a place for the fans. In 2002 the island welcome the drama cast. Many romantic winter scenes were filmed in Nami Island.
In 2006 and following its skyrocketing popularity among Koreans and foreigners, Nami Island declared its cultural independence becoming the imaginary Naminara Republic and creating its own flag, currency, stamps and passport! It is just an imagination Republic but it also take part of Nami charm.
But Namiseom is also known as a cultural center for creative ideas of local artists and employees.  You will enjoy Nami Island`s beautiful nature view and many interesting attractions. You can easily find animals such as ostriches, rabbits, deer and squirrels which live freely in the forest. They will make you feel comfortable and warm. Theme park with playground, electric vehicle are best the things to do for children. There are lodging facilities such as resort villas and bungalows. There are also camping zone and water sports facilities for motorboats and water ski. So it is an awesome place for families, couples who want to make a memorable memory.
The most famous and photographed place on Nami Island is the Metasequoia Road. One of the primary filming location of "Winter Sonata". 40-meter-tall Metasequoia trees change color along with the seasons. It filters the sunlight on a warm day. Even if you are not familiar with "Winter Sonata, it's still a good place to visit.
So, Why don`t you visit Nami Island to make your special memory?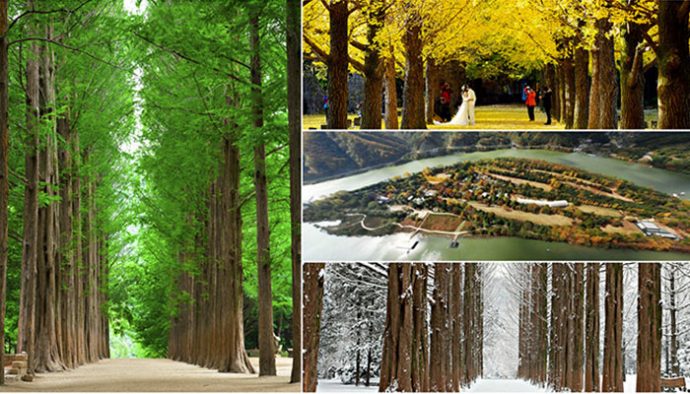 If you too you want to visit the charming place, please check our tours.
BEST – One day Nami Island Tour (optional 3 places)
(Child-friendly tour) Nature day trip to Alpaca World
Visit Nami Island during winter with Ski Resort:
One Day Nami Island + Ski Private Tour
One day Elysian Ski Resort + Nami Island Shuttle Bus Tour
More information about K-drama shooting location:
Discover Hallyu with our K-pop and K-drama tours
Nami Island is one the famous filming location, check-out more K-dramas filming location and the Chuncheon city