Have you ever wondered how Korean girls take care of their flawless skin? Do you want to be beautiful like your favorite Korean celebrities? Regardless the gender or the age, Koreans tends to use skin care product at an early age. Not only women, men does too. They purchase cosmetics on their daily routine allowing Korea to become the largest market for cosmetics on a global scale. Each cosmetics brands has its own colors and best product.
Here is the 10 Step Korean Skin Care Routine, learn it and find out the best product for your skin!
1. Make up remover
If you use makeup everyday, you should choose a good quailty make up remover. Do you know the make up really affecting your skin? The make up can stuck in our pore, and a lot of people who wear makeup don't realize that the make up includes so many chemicals even the brand mention the ingrediants are come from food or natural plants.
Banila – Clean It Zero
Korea no.1 cleansing cream. It is a sherbet cleanser with ecocert natural oil and papaya extract which gives a complete removal of make up. The ingredients also including hollyhock extract and vitamin c Which can helps skin to be brighten and healthy. It goes on as a balm and transforms into a silky oil on the skin. Very moisture, creamy, soft and lightweight, if you are not sensitive to oily product, it should be a good product to purchase. It recommend to anyone with any type of skin.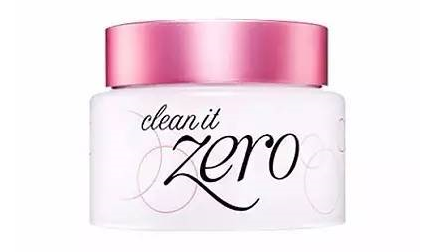 2. Cleanser
If you do not use any make up, you can use cleanser directly. But if you use make up, this step is a double cleansing. Wash your face with cleanser and water, it can helps your skin clear, clean and healthy.
Innisfree – Jeju Volcanic Pore Cleansing Foam & Green Tea Cleansing Foam
Jeju Volcanic products are the second best line of Innisfree (The green tea line is the best line of Innisfree). This product is suitable for oily skin and enlarged pores. The ingredients contains jeju volcanic clusters. It can removes trouble-causing impurities in pores for cleaner skin, your face feels clean and your pores will getting tightening. This product is not suggest to use everyday if your skin type is dry. Recommend use this cleansing foam 1-3 days a week (depends on your skin type or condition of the pore), another day you can use innisfree green tea cleansing foam, the green tea line can helps your skin to be balancing and moisture.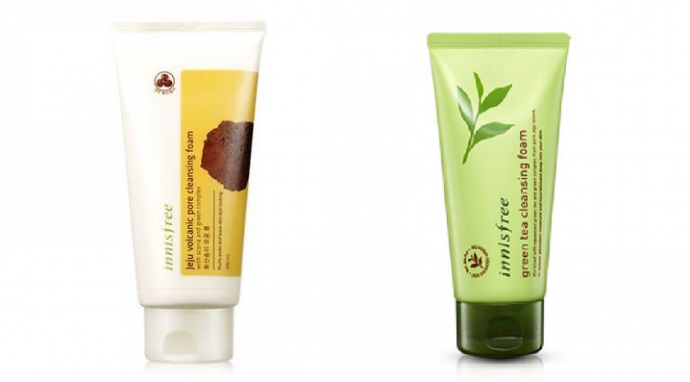 3. Exfoliator
You can skip this step if you have sensitive skin or your skin is already smooth enough. Korean usually use cleansing scrub, mask or peeling gel 1-2 times a week to sloughing off dead skin cells and make the skin more smoothly and silky. Do not forget to use a moisturing mask or apply moisturing cream after exfoliator.
Innisfree – Jeju Volcanic Pore Clay Mask & Super Volcanic Clay Mousse Mask
This product made by volcanic scoria burst that can gives powerful sebum control effect, it can tighening pores, removes sebum, exfolates dead skin cells, deep clean, provdes cooling effect and enhances skin tone. With 6 different ways to fight off blackheads, oil, and dirt, this mask is the best product of innisfree. Use it 1-2 times a week, you will see the different between another exfoliator product and Jeju Volcanic pore clay mask. Another similar mask is Innisfree super Volcanic Clay Mousse mask, this mousse formula makes application much more simple and fast. This pack does not perform miracles, but it will definitely remove dead skin cells.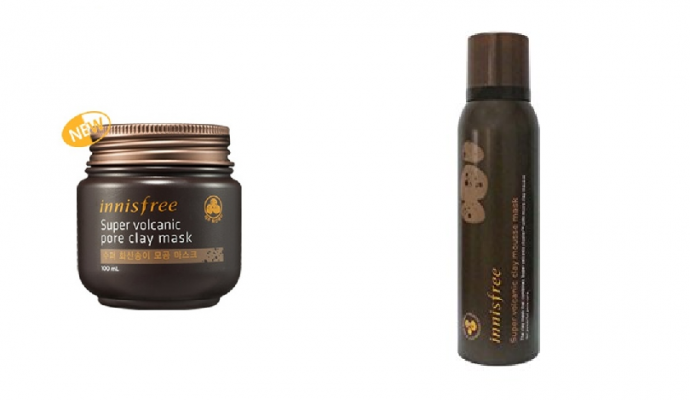 4. Toner
Many people do not know the great benefits of toners, even skip this step. Toners can dampens your skin and balances its PH levels. There are many different toner formulary, some for oily skin, some for dry skin some for whitening or pore tightening, you should choose the one that is suitable for your skin.
SON & PARK beauty water
This toner creates a clean base for next steps in your skincare routine. This water made with natural rose, lavebder and orange fruit extract. It can helps improve your skin, refreshing, sweep away dead skin cells, revealing brighter skin tone and balancing PH level. Use it in the morning and evening after washing your face and before skin care or make up, the dirt of your pores will remove and your skin goes on soft and smooth.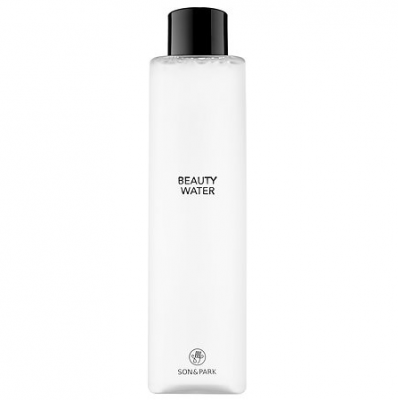 5 & 6. Essence / Serum / Ampoule / Treatments
Essence or Serum are the most important part of improving your skin, this routine is focusing your skin problem. It has a very light weight texture that will absorb into your skin very quickly. Essence and serum sound like they're similar but actually the biggest different is serums are able to hold more concentrated active ingredients than essences can. Some people apply both but actually it is not always necessary. Depends on your skin type, you should find the one that can improve your skin problem. Again, this step is not necessary for everyone.
IOPE Bio Essence Intensive Conditioning
IOPE Bio Essence is very different with another essence or serum. The texture like water and very light, it can absorb into your skin very quickly and make your skin brighter, clear and smoother. The bio essence contains over 60 billion bio-enzymes. Optimize your skin condition with bio-enzymes and experience visible skin improvements.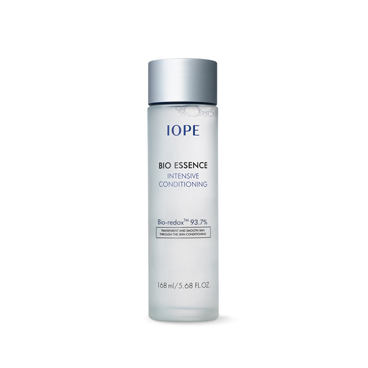 7. Sheet Masks
Spend only 15-20 minutes, put a sheet mask on your face while watching TV or playing computer. You will see the immediately effect. Use at least 1-2 times a week. There are so many so many awesome Korean masks are cheap and effective. Depending on the type of your skin, you can choose the one you want. Some have add benefits like brightening, pore tightening, moisturizing, renewal, reduce wrinkles or relaxing.
N.M.F Mediheal Aquaring Ampoule Essential Mask
This mask is so popular in the world now. It is suitable for any skin type. With water system of natural moisture factor that can helps providing abundant moisture to your skin. After using this mask your skin will looks much more bright and moisturized. Very good to using before make up and the price also reasonable. If the humidity is very low or your skin is super dry, I recommend the snail moisture mask from It's skin and shea butter mask from Innisfree!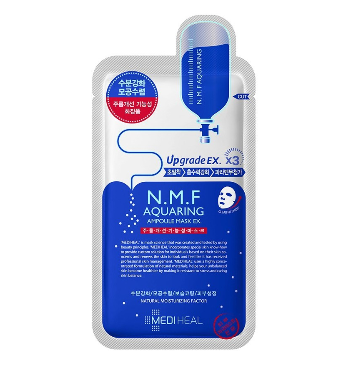 8. Eye Cream
Do you know the skin around your eyes is very thin, delicate and sensitive? You should treat it like take care of a new born baby. Wrinkles and dark circle around your eye can make you look older and tired. Use the good quality eye cream can helps you look younger!
A.H.C The Real Eye Cream
This product full name is A.H.C The Real Eye Cream for face. That means this is not only an eye cream, it can be used over your entire face. This eye cream is suitable for all ages, it is an all in one eye cream which can provides benefits include reduce wrinkle, hydrating, lifting, firming. This eye cream is not light and very creamy so recommend use before sleep.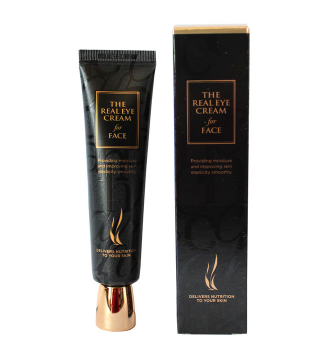 9. Moisturizer
Moisturizers are another layer to protect your skin and prevent wrinkles, it complex mixtures of chemical agents specially designed to make the external layers of the skin softer and more pliable. You should choose day cream and night cream. Generously put the moisturizer on your face, neck and then massage, it will penetrates into your skin.
Nature Republic Super Aqua Max Combination Watery Cream
Nature Republic Super Aqua Max Combination Watery Cream is suitable to combination skin type, very lightweight and forms a protective film to the skin to keep moisture. It contains clean ocean water and 30 kinds of marine plant extracts. This moisturizer cream also well known for reasonable price and good quality compared to another expensive products.
10. Sun protection
How important to know sunlight has both good benefits and negative health effects. It contains vitamin but long term sunlight exposure contributes to premature skin aging and damaging, sunlight can lead to early development of wrinkles, dark spot, red mark and brown age spots. Thanks to Korean beauty industry, the best sun block products are exists.
A'Pieu Pure Block Natural Sun Cream
The texture of this sun cream is very creamy but it actually not sticky and it can prevents oil from building up on the skin, it is very easy to blend. It contains natural ingredients aloe extract, peach, pomegranate, apple blossom, lime flower, damson flower and orange flower. It can leave a slightly white residue on your skin and very powerful resistance to UV damage to your skin.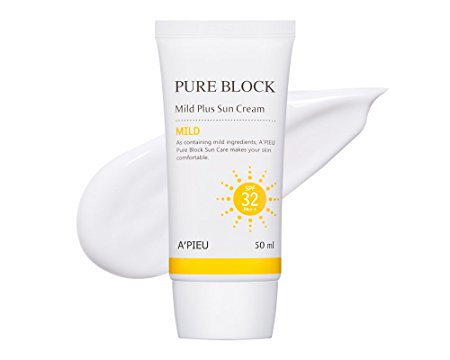 Try the Korean Beauty Experience with our Luxury Korean Beauty Tour or book our vehicle to visit the shopping places!
Read next article: Cosmetic industry in South Korea : the importance of beauty