Hahoe Village of Andong
Hahoe Village is home to descendants of the Ryu clan of Pungsan and is well-known for its traditional houses. Birthplace of renowned scholars of the Joseon Period such as Gyeomam Ryu Un-ryong and Seoae Ryu Seong-ryong, the village became even more famous after Queen Elizabeth of England visited on April 21, 1999.
Hahoe Village (translating to "Village Enveloped by Water") gets its name from Nakdong River, which flows around the town's perimeter. The village is located at the foothills of Hwasan Mountain, an offshoot of Taebaek Mountain that rises up to the east. Walking in the center of the village, you can see large tile-roofed houses belonging to the Ryu clan, adding their own unique charm to the surrounding thatched roofs.
Hahoe Village boasts exquisite scenic sights: the elegant Nakdong River flowing around the village, the magnificent Buyongdae Cliff, endlessly unfolding sandy beaches, and lush, ancient pine trees. Visitors can take the boat to Buyongdae Cliff for a panoramic view of the village.
It is also known for its traditional Korean mask dance.
Traditional Korean Mask Dance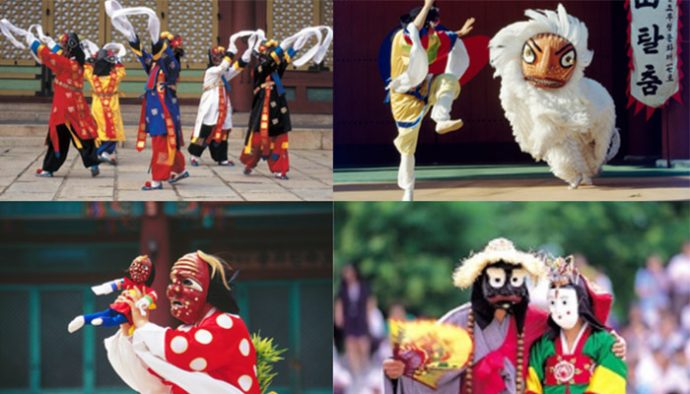 The traditional Korean Mask Dance, most commonly called "talchum "in Korean is a form of drama featuring the wearing of masks, singing and dancing. Back in the day, this term was only used for the Hwanghae province, but later it became generally popular. Nowadays, we can found traditional Korean mask dance all throughout the peninsula alongside distinctive display characteristics for each region. Depending of where they originate from the mask carries out a different name. For example, we call the masks from Hwanghae province "talchum". Those from Seoul and Gyeonggi Province are called " sandae nori'". Other provinces like the North Hamgyeong one, now part of North Korea, is renowned for its "saja noreum" in other words the lion dance performance.
The story of Huh Chongkak
What people usually ignore is that behind these mask remains an untold story. During the Joseon Dynasty lived a craftsman named Huh Chongkak. He had been ordered by the gods to create 12 different masks. He was forbidden to meet anybody until he achieved them. However as he finished the upper half of the mask, a girl showed up at his workshop to see what he was doing. He fell in love with her instantaneously. The artist then suffered from a massive hemorrhage and soon died, leaving the twelfth mask without its lower jaw.
Today nine of the Hahoe masks have been designated as cultural treasures of Korea.  However, three designs had been declared lost over time.  A displayed mask in Japan appeared recently to be one of the three ones lost named byulchae. It was taken away by a Japanese General around 1950 as a war booty explaining its disappearance during these 400 years.
Nowadays, it is a dance really popular and reflecting the history and traditions of the Korean peninsula. A unique performance to see !!!
If you are craving to discover more about historical traditions and performance, you can go and visit the famous historical village in Andong check out our tours from Seoul to Andong.
Historic Village of Korea, Hahoe, Andong Tour
5D4N Korea Cultural Heritage immersion Tour
More information about Andong:
Local specialty Foods : Andong
Want to see more historic places? Check it out from our blog: 12 Historic Places to see during your trip in Korea