The 10 Most Beautiful Places in Korea
1. Geological Heritage of Pocheon
The hidden town of Pocheon is a less than two hour's drive from Seoul, but it feels like a world away. Nowhere to be found is the concrete jungle; in its place are deep forests, refreshingly cool rivers, emerald lakes and endless hills. Hidden in the green depths, beautiful crystal-clear lakes surrounded by steep granite walls. The perfect place for a city escape.
Visit the splendid nature of Pocheon with our Pocheon Tour!
2. Kyeong-Wha Station, Jinhae
Every spring, the small town of Jinhae turn into a pink paradise. Jinhae Gunhangje Festival is the largest Cherry Blossom Festival in Korea. It draws millions of visitors every year and has been recognized by CNN as one of the most beautiful spots on Korea. Kilometers of flower streams let the whole town change colors. The pretty pastels attract many professional photographers as well and is a must-go spot for couples.
Enjoy cherry blossoms with our Jinhae Cherry Blossom Tour!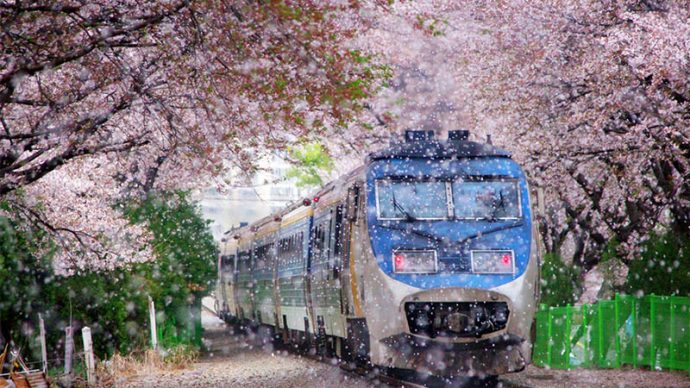 3. The 8 scenic views, Danyang
Perched by the lake, surrounded by three national parks and with caves and temples scattered all over, Danyang is considered one of Korea's top attractions. Just a 2.5-hour drive from Seoul, Danyang offers the Eight Great Sceneries, which have been well-known since Joseon Dynasty already for magnificent views on peculiarly shaped rocks, peaks and cliffs. The "8 scenic views" are the most unique and beautiful of them and include Mt. Sobaeksan National Park, Guinsa Temple, Gosu Cave, the largest lake and many other must-see spots.
Admire the eight scenic views of Danyang during our Danyang Eight Scenic Views and Chungju Lake Cruise Tour!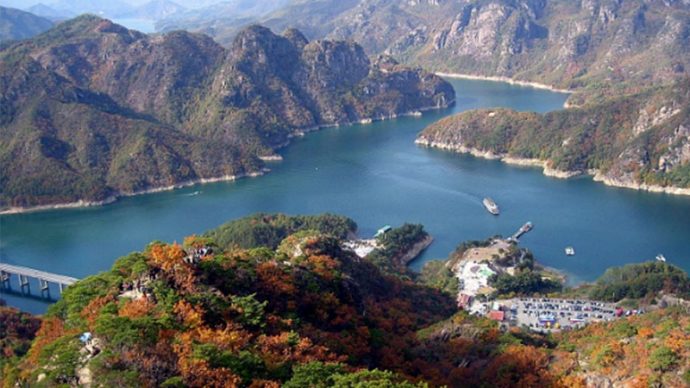 4. Green tea fields, Boseong
Boseong is one of the most beautiful, undiscovered parts of South Korea, especially in the early spring and then in the fall when it is harvest season. It is a picturesque land filled with rolling hills that are all used for growing tea. Boseong is referred to as the most beautiful green tea fields of the country and has been the shooting location for many dramas. You can get a spectacular view on sheer endless green tea fields. As 40% of Korea's tea is producted here, it also features several cafes and restaurants which use fresh green tea as their main ingredient. Here you can taste fresh tea and green-tea flavored tasty treats. There is a green tea festival held in May and in winter, the field are beautifully decorated with lights.
Walk through the green tea plantations in Boseong!
 5. The "Naples of Korea", Jang-ho
Jangho Fishing Village is a small port town located on the East Sea coast and was designated as Korea's most beautiful village in 2011, gaining the nickname of "The Naples of Korea". Its popularity among Koreans has been constantly growing in the recent years as it provides a beautiful white sand beach with unique rock formations as well as summer marine sports activities such as transparent kayaking, snorkeling, rafting or canoeing. Jangho village is a perfect summer destination for a one day escape from the heat of Seoul city, as diving in the crystal blue waters of Jangho Beach will certainly feel special!
Feel the summer heat at Jangho Beach!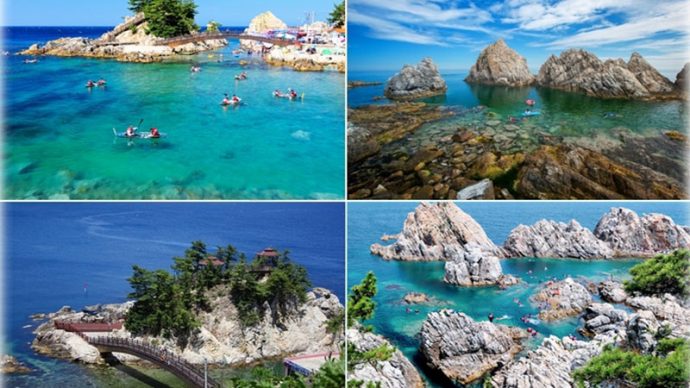 6. Songgdo park, Incheon
The over 100 acres big Songdo Park was introduced in 2009 and is famous for its' unique and futuristic design. It was inspired by the New York City Park and is a natural oasis in Incheon City. The best way to enjoy it is to take a water taxi for about 4USD and enjoy the great view on the fusion of nature and modernity. You can also engage in various water sport activities like canoeing and kayaking.
Discover the futuristic city of Songdo!
Check-out the video of this beautiful Songdo Island here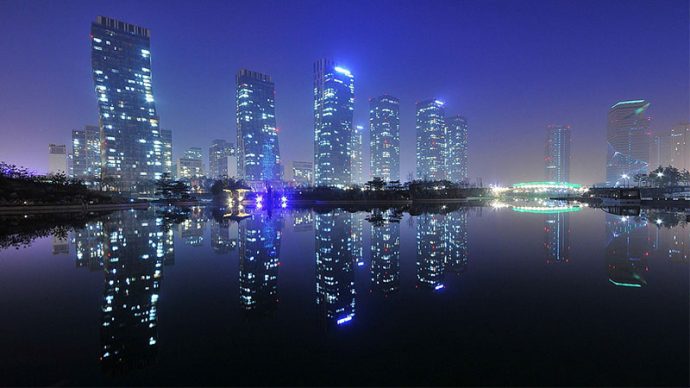 7. Seongsan Sunrise Peak, Jeju Island
The majestic crater was formed 100.000 years ago by volcanic activities. Nowadays, it is a UNESCO world heritage site and the home of many rare plants and beautiful flowers. The huge crater is about 600m in diameter and the perfect spot for walks, horse riding. However, it is most famous for its stunning sunrise. The sun and crater and in a harmonic position with the sun beautifully reflected on the water. If you are on Jeju Island, you cannot miss this!
Evade to Jeju Island with our private Jeju Island Tour!
 8. Seoraksan National Park
One of the most beautiful, iconic and biggest (400.000 sq km) parks of the Korean peninsula. It is famous for its fascinating rock formations, deep forests, wildlife, hot springs and ancient temples. No wonder that UNSECO declared it a Biosphere Protection Site. In autumn, it is one of the best spots to see the changing colors of the leaves. You can hike all the way up, but also take a cable car, which is much more comfortable and guarantees stunning views from above.
Go hiking in the majestic Seoraksan mountain!
 9. Suncheon Bay
Suncheon Bay is the world's premium wetland. People and nature coexist in peaceful harmony. The main aim is to protect and preserve the beautiful landscapes with its' 25 endangered and 220 bird species. The beauty of the reed fields waving in the wind is often described as surreal. Some of the reeds grow taller than an adult! The area's calmness and peace make it a perfect spot for slow tourism.
Join our Suncheon Tour!
10. Juknokwon Bamboo Garden, Damyang
The dense bamboo forest is located in Damyang, known as the "slow city" and the best place to go for everyone who needs a break from busy Seoul. There are 8 trails with different themes which you can follow. Walking through the deep bamboo garden with its' beautiful pavilion, view points and bridges, will make you feel like a world away. If you need a break from walking, you can visit the Juknokwon observatory, which serves coffee, cakes and also "Jukro tea" made from drips that come of the bamboo leaves.
Relax in the Bamboo Forest of Damyang !