Pocheon Tour Experience
The small city of Pocheon is located in the Gyeongi province, 42km northeast of Seoul. Currently, 160.176 people are living in Pocheon. I did not know anything about Pocheon prior to coming to Korea but after seeing the great pictures being taken there, I decided to put a trip to Pocheon on my To-Do list.
We started our one day tour in the morning at 11am and drove almost 2 hours to Pocheon. We stared a bit later than the usual tour date because I wanted to see the lighting festival at Herb Island. The drive wasn't boring at all since it was my first time to get out of Seoul. It was fascinating to see the transformation of the city into rural areas and glorious mountains on the way. Our guides told us how Pocheon was not only stunning to look at, but also famous for Makgeolli (Korean rice wine) and Galbi (Korean BBQ meat). We had a lot of fun in the car and their stories made me look forward to Pocheon even more!
When we arrived, I immediately realized the difference to Seoul. The area was not overly developed and everything was bursting with beautiful nature. After getting out of the car, I was shocked to realized how fresh the air was compared to Seoul!
First Destination: Korea National Arboretum
The first place on our list was the Korea National Arboretum, which was a royal forest in former times. Now, it is open to the public and was declared a UNESCO biosphere reserve in 2010. It is basically a huge and beautiful forest with different plant gardens, a zoo, a wildlife conservatory and much more. There are many rare plants and trees to be found and The entire area is filled with hiking paths which are all worth exploring!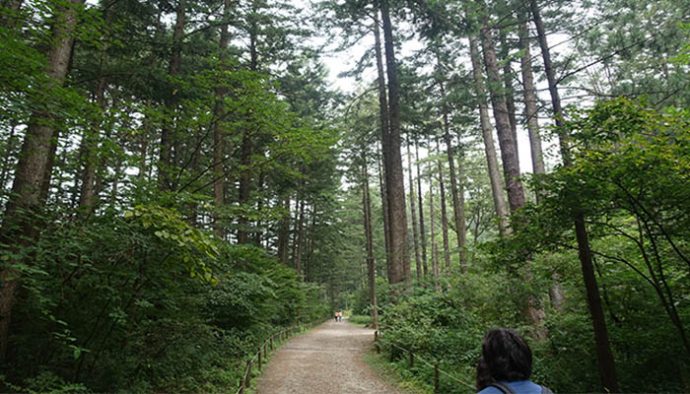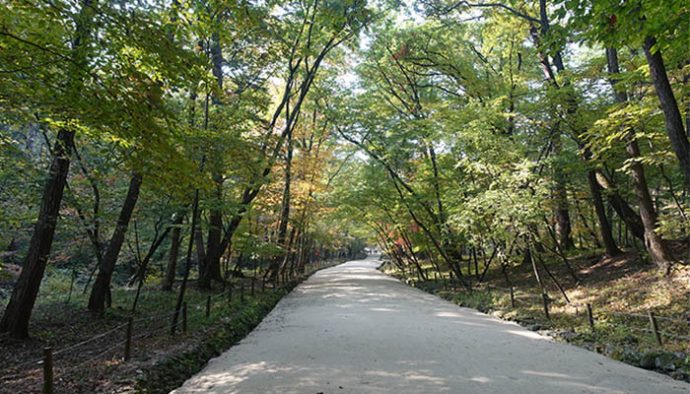 We also found this stunningly beautiful rock alley with a waterfall!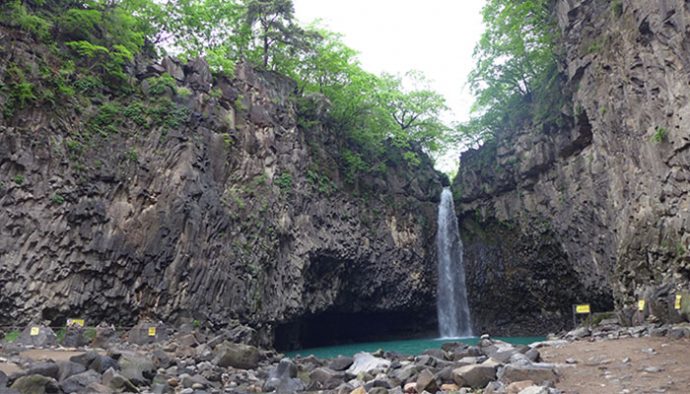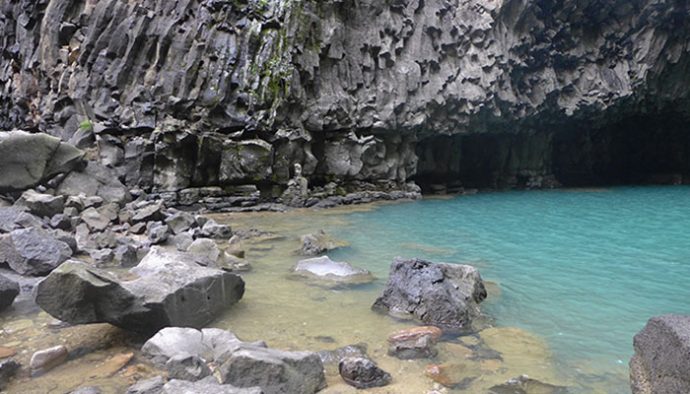 Our Lunch
I was very excited for lunch as we had a really special meal. It is called Hanjeongsik and a full course traditional Korean meal. It was often served in Royal Palaces. The main parts of the menu are vegetables, meat and –of course – rice. But the whole table was filled with side dishes called "Banchans" which were all carefully prepared and delicious! The food was so good and we were so hungry that we ate everything before taking a a picture 🙁 Everything tasted different, some dishes were salty, some fried, some steamed… And many things I have never seen or eaten before (Acorn Jelly Salad..). It was a really special and authentic experience and one of the highlights of that day.
Pocheon Art Valley
After lunch, we drove to Pocheon Art Valley. At the gate we purchased  arriving at the Art Valley and purchasing our tickets, we got onto an adorable monorail which provided great views while slowly making its way up the hill to the famous granite quarry.
This was the place I saw on all the photos and that inspired me to travel here!
Before the city of Pocheon transformed this stunning place into an Art Valley, it was a granite quarry, which was actually operated until the 1990's. Now, the abandoned quarry is the most beautiful spot of the park! No surprise that it was the shooting location of  the Drama "The legend of the Blue Sea" and Running man!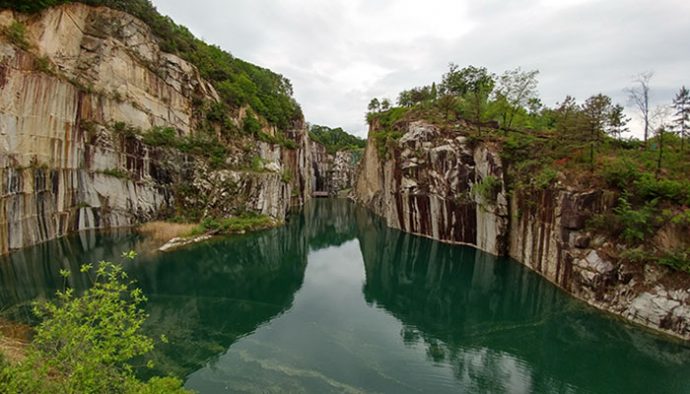 Besides the great view, there are pick nick tables where you can enjoy snacks (I wish I brought some) and a small stage where outdoor performances are held. When I was there, no performance was going on but I can imagine that concerts combined with the great view must be an amazing experience. If you walk further, you can see why this place is called "Art Valley". There are exhibitions, funny sculptures and photo spots to take the best pictures and make memories. We had really fun there! There also is a museum (entry is free) about Pocheon Art Valley. They have great entertainment for kids in there, so if you come as a family I would recommend the museum! Another fascinating thing is an igloo made out of makgeolli bottles which can be found next to a café.
After taking our time to stroll around the beautiful valley, we got back to the car to go to Herb Island, which I was really looking forward to.
Herb Island
I considered Herb Island as an alternative to the Garden of Morning Calm which I didn't manage to visit and I was hoping that the place would be as nice. Luckily, our expectation were not only met but exceeded!
It's located in Pocheon and is a botanical garden that grows over 180 herbs and plants. There is an indoor and an outdoor part: The indoor garden showcases different herbs while the outdoor garden is beautifully arranged and features various herbs surrounded by nature.The reasons why I wanted to go there is the lighting festival which takes place almost the whole yer round during evening hours. The whole outdoor area is beautifully decorated with colorful lights that brighten up the night.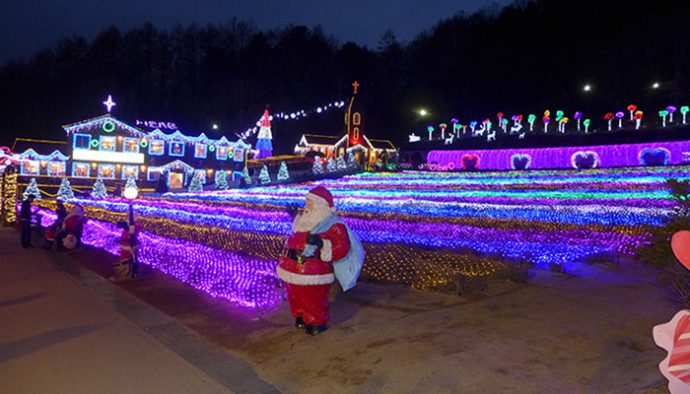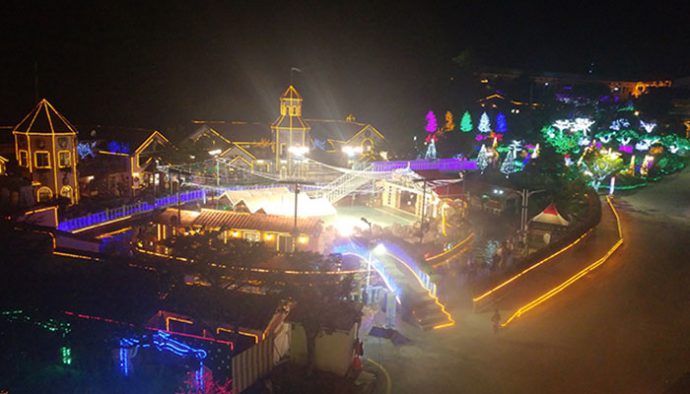 How to get there
Getting to Pocheon can be a bit tricky. You can take a subway to Uijeongbu Station and then get into the bus 3-38-3 which will take you to Pocheon. To be safe, you should tell the bus driver where you want to get off. As soon as you leave the bus, you can see a road on your right side, which will take you to Pocheon Art Valley (There is a sign indicating the way). However, the bus leaves about a mile from your actual destination so be prepared to walk a bit.
A more convenient way is to book a Pocheon tour.