Korean folk village is an open-air folk museum and international attraction in Yongin, Gyeonggi-do. It is presenting the Korean traditional culture to local and foreign tourists. It is located 'facing the water and backgrounded by mountains' surrounded beautiful environment.
Korean Folk Village: Immerse yourself in the traditions and Korean history
Not far from Seoul, in Yongin, the Korean folk village remains to be one of the most popular in Korea. It introduces visitors to shaman belief, seasonal customs, and others. In addition, it is a renowned setting for K-Dramas, such as "The Moon that embraces the sun", "Daejanggeum" and more.
This place is famous among curious who want to learn more about Korea history and traditions. Both Korean and foreigners appreciate this place. Furthermore, Korean Folk Village brings you back in time and drowns you in Joseon period, centuries ago. It recreates lifestyle of Korean from that time. Hanok, the traditional Korean houses, are replicated as closely as possible to remains the original atmosphere.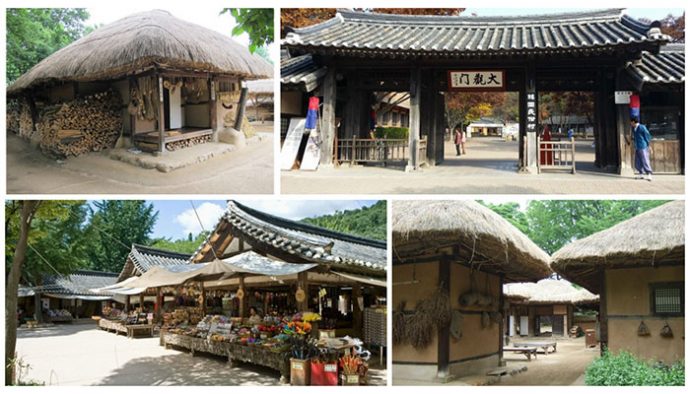 Therefore, this open-sky museum brings up to date old Korean customs. You can admire professional handcraft skills, from pottery to bamboo weaving. Likewise, the town indicates different spots with one of a kind elements, for example, a farming village, private houses, Confucian school, official buildings,  Seodang (village school), and a village street. Besides, you can find an aristocrat's home and traditional workshops.
In the Park, there is also a Performing Arena. Here are performances of traditional dances and music, martial arts, equestrian skills, a reconstitution of a marriage ceremony and many others.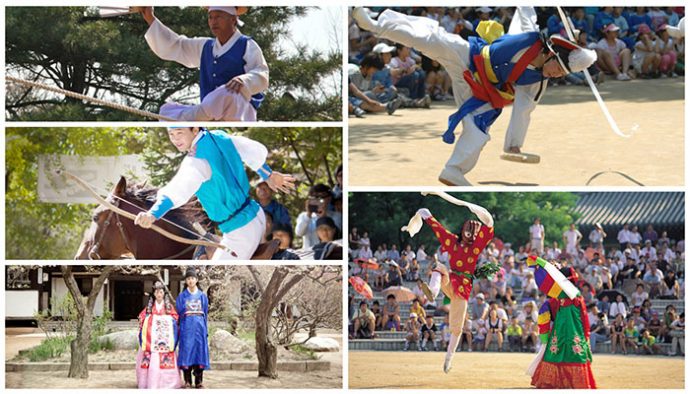 Moreover, if you are hungry, you can taste Korean traditional food. So, you will be able to find rice cake like jeungpyeon (steamed and fermented rice cake), injeolmi (rice cake coated with bean powder). You can also enjoy bukeo-gui (grilled dried pollack), pajeon (green onion pancake) along with dongdongju (traditional Korean liquor).
A beautiful replica of Korean lifestyle and customs from Joseon dynasty. A famous filming location. Energetic and unique performances. Don't miss the opportunity to learn about Korean culture in a playful way. Come with your friends, your lover or your family to spend a good time in Yongin's Korean folk village.
If this article gave you the will to visit this place, please check our Korean Folk Village and Suwon Fortress Castle Tour.
More information about Suwon city: Suwon's year : promoting the Hwaseong fortress  The Hwaseong fortress : An historical unprecedented project